Long Hair, Do Care
'Tis the season to let long hair shine! Do away with years of damage and get back on the road to health stat with these quick and easy tips that will transform your tresses from drab to fab in no time flat.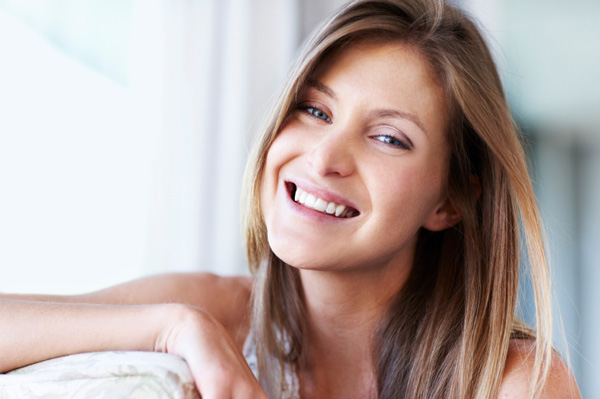 Step 1: Don't flip
Flipping your hair upside down and vigorously trying to dry it with a towel can be a hard habit to break. But doing so often causes split ends and damages hair. Instead, try applying a rejuvenating oil to replenish and strengthen your hair. We like Organix Moroccan Argan Oil. Apply it to your hair and scalp before you blow-dry it to create soft, silky hair.
Step 2: Never use a comb on wet hair
When hair is wet, it has the extra weight of water in it. Therefore, it stretches more and breaks easier, explains celebrity hairstylist Frank Galasso of the Barnes & Galasso Salon in LA. "A detangling brush has less tension and gets tangles out of wet hair safely versus combing through wet locks, which can cause damage."
Step 3: Make sure to schedule regular trims
We all know it's hard to cut off those luscious locks, but a regular trim every six to eight weeks is vital. Cutting off the damaged ends will prevent your hair from splitting even more.
Step 4: Choose the right products
Make sure to choose the shampoo and conditioner that suit your hair. More often than not, people will choose the wrong product. If you have dull, dry hair, reach for a product that specifically caters to strengthening and moisturizing your hair. One brand that accommodates all hair types is the Redken line.
For healthy hair from the inside out, we highly recommend Nature's Bounty Optimal Solutions strawberry-flavored Gummies*. Not only are they tasty, but they also contain vitamins E and C, and biotin to ensure your locks (and skin and nails, too) are always at their best.*
Step 5: Don't shampoo as often
According to Dr. James C. Marotta, a New York-based facial plastic surgeon and leading hair restoration specialist, it's important not to shampoo your hair every day. If you do, however, he recommends using an ammonium and sodium laureth sulfate-free shampoo and lukewarm water (as opposed to hot). "Both hot water and over-shampooing will strip the oils of your hair and scalp, contributing to further moisture loss of your locks."
Step 6: Wrap up hot hair tools
When using hot tools (such as a flat iron or curling iron), wrap the barrel with tissue paper before running it over your hair, Galasso advises. "Irons can get too hot and burn your tresses. The tissue paper helps protect them. For example, when you iron a silk shirt you should put a cloth over it prior to ironing, same concept with your hair!" Also, try to buy a straightener or curling wand with a heat adjustment dial and keep the temperature under 270 degrees F, adds celebrity hairstylist Meghan Frayne of Angelo David Salon in New York City, New York.
Step 7: Get your daily dose of vitamin E
Whether taken orally as a supplement or placed directly onto your hair (or both), vitamin E is proven to maintain hair and skin health, notes Rodney Cutler, the owner of Cutler Salon.* "You can purchase the gel capsules and take one as a supplement and split another in half, applying the oil directly to the ends of your hair, to strengthen and help with split ends," he says.
Step 8: Keep your insides healthy
What you ingest is no doubt translated in your hair, skin and nails. That's why if you want long, healthy locks it is extremely important to make sure you drink a lot of water and take biotin, a vitamin that benefits hair and nails, says celebrity hairstylist Julia Papworth.*
Step 9: Beware of fabrics
Believe it or not, the coat and scarf you wear every day can wreak havoc on your mane in the winter. "As your hair comes into contact with certain coats, particularly fur, faux fur and wool coats, it creates friction between your coat and hair, thus damaging hair," says Flora Shepelsky, the founder of Design by Flora. "To solve this, simply sweep your hair to the side when putting on and wearing your coat, or tie it up in a low bun or braid."
Step 10: Use a moisturizing hair mask
Maybe you want to try a moisturizing hair mask, but the last thing you want to do is spend an arm and a leg on some lavish product that you are not sure works well. We suggest trying an at-home hair mask. One DIY hair mask that continues to flood Pinterest is an avocado and banana base mask.
This mask revitalizes your hair and restores natural shine and luster in just a few easy steps:
Mash together an egg, banana and half an avocado until smooth.
Stir in 2 tablespoons of honey, 3 tablespoons of buttermilk and 3 tablespoons of olive oil.
Apply the mixture all over your scalp and hair and leave it in for 20 to 25 minutes.
Rinse and condition your hair, and you will be left with smooth and shiny hair!
More beauty tips
Top 10 superfoods for healthy hair
Winter hair survival guide
DIY hair repair treatments
*These statements have not been evaluated by the Food and Drug Administration.
These products are not intended to diagnose, treat, cure or prevent any disease.