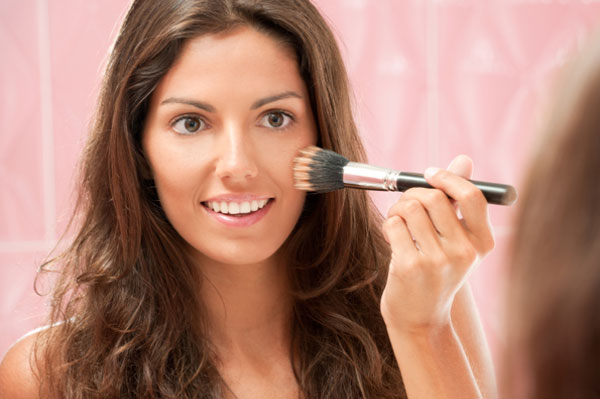 Make it stay!
You've likely experienced the greatest makeup disappointment possible: It just won't last through the day! No matter how much concealing, contouring and primping you've done, that gorgeous makeup job melts off your face. There are ways to prevent makeup meltdown — just a little extra effort makes a world of difference.
Whether you have dry, combination or oily skin, primer is a must if you're wearing foundation. It smooths on before you apply concealer and foundation, making your hard work stay in place. Make sure you read online reviews of products to see if the primer you're considering will work for your skin type without causing adverse reactions like breakouts and dryness.
2
Choose the right foundation
If you have oily skin, odds are a cream or liquid foundation will either disappear by midday or leave you super shiny come lunchtime. If you have dry skin, it's likely a powdery mineral matte foundation will simply sink into lines and accentuate flakes. Choose the right foundation for your skin type, and it will make a world of difference at the end of the day.
This is the typical way to set makeup, but that doesn't make it clichéd. Powder is a classic makeup choice for a reason. Not only does it give you an extra bit of coverage over your foundation, but it also absorbs oil and shine to create a perfect, soft look. Adding it to the top of your foundation will make sure your cover-up job doesn't come off as you apply blush, bronzer, eye shadow and more.
What hairspray is to your hair, setting spray is to your face. A good setting spray will keep your makeup looking fresh and pretty all day with fewer retouches in between. Once all of your makeup is completely dry, simply spritz the spray lightly over your entire face to get a long-lasting finish.
These thin, little sheets might not look like much, but they're lifesavers in a bind. You've gone through all the safeguards to ensure your foundation lasts all day, but you're still experiencing some oiliness that could get in the way of makeup perfection at the end of the day. Classic oil-blotting sheets are the purse-perfect way to make sure you stay shine-free all day.
More makeup tips
Makeup tips for an outdoor wedding
One Direction debuts new makeup line
Katy Perry is tired of wearing so much makeup