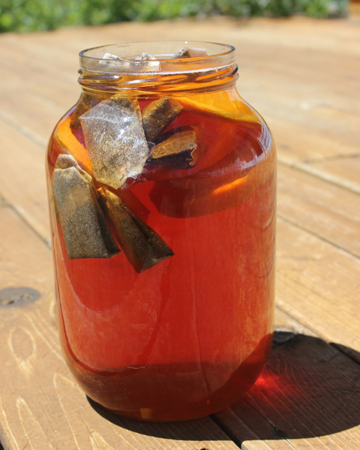 How to... Get groovy with this yummy drink
Take a trip back to the 1970s with this classic (and easy) summer tea idea. Use the sun's power to make this recipe instead of heating up the house by boiling water on the stove.
What you'll need:
At least five tea bags of black tea (Add more depending on how large your container is and how strong you like your tea.)
A large glass container with a lid
At least 4 cups of distilled water
Two to four hours of direct sunlight
Step 1: Prepare the elements
Gather your tea bags and water, wash out your glass container and find a sunny windowsill or spot on your porch to create your concoction.
Step 2: Here comes the sun
Pour the water into the glass container, then add the tea bags and secure the lid. Place the container in direct sunlight for two to four hours and allow the tea to steep; it all depends on how strong you like your brew! However, make sure you don't exceed four hours — you don't want bacteria to grow in the water.
Step 3: Chill out, dude!
Take the container out of the sun and allow it to cool a little before you put it in the fridge. When your brew has chilled to your satisfaction, serve it over ice and enjoy with friends. Feeling fancy or creative? Garnish with a lemon twist or a slice of orange, and sweeten with your favorite sugar.
More on tea time
Iced tea cocktails
Why tea is good for your health
Tea 101: Types of tea & their health benefits