IKEA BYOF (Bring Your Own Friends) Event!
Win a $100 IKEA Gift Card for You, and 2 More for Your Friends!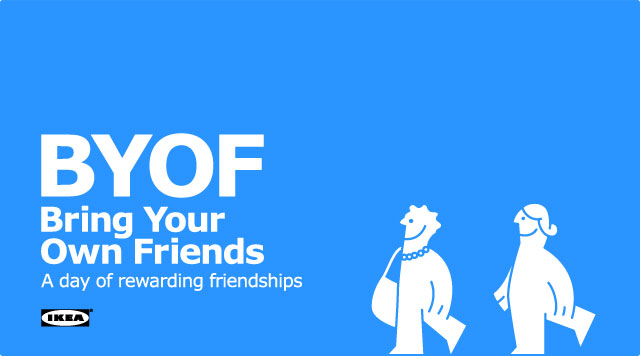 Can't decide which type of kitchen cabinets you want in your new kitchen? Or what new colors to infuse into your living room or bedroom space? Ask your friends!
On March 9, 2013, IKEA will host its second BYOF (Bring Your Own Friends) Day - a nationwide, in-store event offering perks, activities and giveaways along with the opportunity to shop for items to help improve your life at home. BYOF Day is designed to reward IKEA loyalists and to be shared with friends and family. It is part of the IKEA Life Improvement Project – a national program designed to offer consumers inspiration and suggestions to help make a positive impact on their homes and the lives within. 
BYOF Day perks include:
Food Specials: Have a foodie friend? There are many food offers on BYOF Day. Consumers can print out a coupon for free breakfast and enjoy food sampling from the Swedish Food Market.   
Life Improvement Seminars: Each store will host a Life Improvement Seminar offering tools, inspiration and suggestions to help people improve the way they live. Find out which seminar is being offered at your store on the BYOF tab on the IKEA Facebook page.
Ask a Home Furnishings Expert: Customers can bring their design challenges in store for personalized advice from the experts on how to improve their space.
Gift Card Giveaways: BYOF Shoppers can enter for a chance to win an IKEA gift card. Each store will give away $1000 worth of IKEA gift cards as prizes to reward loyal customers.
Free Blue Bags: Customers can print out an offer on the IKEA Facebook page to redeem a free IKEA blue bag during this shopping event. The large, iconic, reusable bag is flexible, lightweight and easily cleaned, making it an ideal companion to transport many of your favorite items.
Twitter Picture Hunt Sweepstakes: Social media savvy? Customers can follow their local store twitter handles for details and a chance to win prizes on BYOF Day! (NOTE: IKEA Tempe will not be participating in the Twitter Picture Hunt Sweepstakes.)
Consumers can visit www.thelifeimprovementproject.com and RSVP for their local BYOF event through Facebook. From there, they can print special offers to be used in store on BYOF Day. For each RSVP, IKEA will donate $1 to Save the Children's Early Steps for School Success, up to $25,000.
Enter now for your chance to win the IKEA BYOF Day Giveaway!
Entries are unlimited.