Decorate Your Home With Maritime Flair
Don't live anywhere near the ocean? No problem. With these stylish elements, you can give your room the look and feel of a seaside escape. Forget resort-style wicker and shells. This modern nautical decor draws inspiration from the sea without making your room look like a hotel.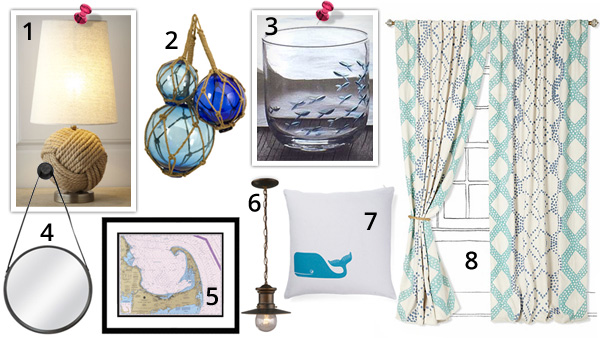 Get away from it all every day by creating a seaside sanctuary no matter where you live. We've curated a stylish collection of decorative elements that call to mind the sea without looking corny or inexpensive. Look beyond seashells and discover stylish ways to inject nautical decor into your home.
1
Vintage-inspired lighting
Sailors' knots draw inspiration from centuries of seafaring. The geometric patterns in the rope on this mini lamp pair modern style with classic, vintage seafaring dynamics. Pair with a neutral linen shade that resembles a sail. (Horchow, $170)
Glass floats in deep, pretty colors bring quirky charm to your interior decor. Traditionally used before plastic and rubber became common marine materials, glass floats now lend mystery and color to your design. (Wayfair, $32)
3
Shimmering schools of fish
Entertain with these delicate hand-blown glasses etched and hand painted with tiny schools of fish. For a subtle nautical element, use the small glasses with an LED tea light for a charming accent. (Rain Collection, $13)
For a unique mirror that will serve as a conversation piece and centerpiece in your room, try a captain's mirror that hangs from a leather strap. Call to mind the elegant austerity of a captain's quarters. (Target, $30)
5
Charming nautical charts
Before modern GPS systems, navigators tracked a ship's progress using nautical charts. These gorgeous, detailed maps make beautiful art when framed. Give your living room or office vintage charm with a framed nautical map. (Ocean Offerings, $225)
6
Maritime outdoors lighting
Give your home's exterior maritime flair with a quirky outdoor pendant light crafted to look like a vintage nautical light. Blown glass and rich bronze give a modern light the appeal of an upscale antique. (Bed Bath & Beyond, $95)
7
Quirky vintage whale print
Like the ubiquitous moustache print, whales have failed to go out of style. This simple, quirky printed throw pillow gives your room nautical style without going over the top. Perfect for your living room or a child's bedroom, it's a cute, contemporary spot of color. (One Kings Lane, $69)
Think abstract with curtains that call to mind waves at the beach. These modern ratio curtains resemble waves in shades of muted blue, but don't have an overly beachy appearance. They're the perfect centerpiece for a subtle nautical room. (Anthropologie, $198)
More decorating ideas
Nautical touches for every room: $25 or less
15 Versatile rugs you'll love
6 Simple ways to create your own bathroom spa