(page 6 of 30)
Take the quiz!
Whether you're a seasoned gardener or a flower-planting newbie, we're giving
you the chance to test your gardening IQ. Take our multiple-choice quiz
to see how well you know your way around the garden.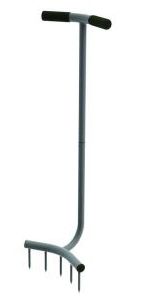 The answer
Aerating your lawn will keep it healthy by letting air into the ground. The Vertex easy-step spike aerator ($30) is a back-friendly way to poke holes in your lawn. Simply place the aerator spikes in the lawn and step on the platform. The forward design of the contoured slip-resistant handle will keep your body comfortably upright.