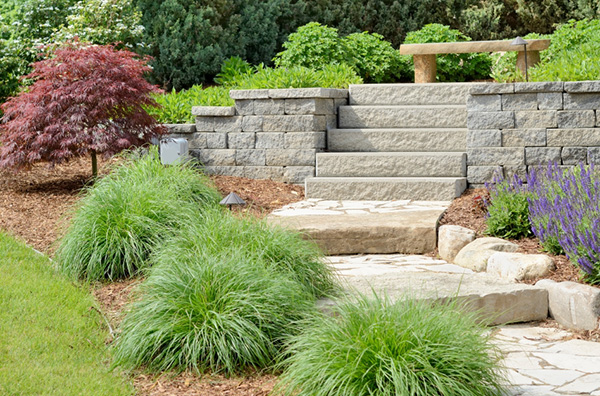 Pave your way to a stylish outdoors
If you're anything like most of the general population, you're fixated on TV shows that transform a drab backyard into a jaw-dropping outdoor oasis. This elusive backyard art, known as hardscaping, increases the value of your home significantly and aesthetically. So, how is it done?
We've put together an essential guide to hardscaping. Read, learn and get to paving — your neighbors will be following suit in no time
Just how big is hardscaping?
It's huge — and arguably the future of modern landscaping. In hardscaping, homeowners work around terrain to create a uniquely paved backyard. Current trends show the designs are becoming increasingly remarkable and distinct in design. Popular home-improvement shows on networks such as HGTV have brought the trend into the spotlight. Designs are extravagant and inspiring as ever.
Gather inspiration
The most important step to your hardscaping plans is to gather inspiration for your backyard. Your design should be well thought out and take into account your backyard and what you want it to be. Best advice: dream big. Hardscaping designs are best when they are custom and utilize the entire backyard. The best place to keep inspiration is a Pinterest board. Create a board solely for hardscaping ideas you can pin from design websites. Don't forget to pin main elements you want in your yard — infinity pool, garden, pond, fire pit, grass. You'll have to base your hardscape design around these, so take everything into account.
Here are good places to start: 
Learn your options
Once you gather your ideas you'll have to decide what materials you want to use. Remember, you aren't restricted to stone or a typical wooden deck. The sky is the limit, and many home improvement stores are now working with people to reach the custom level they want. Consider wood stains, colors, mosaics, multicolored stones, tiles and slate. Consider mixing materials and combining geometrically with areas of grass, plants and modern art. Also, consider where you'll buy the material. Home improvement stores like Lowe's and Home Depot are always a sure bet, but many online sites offer wholesale price — plus the convenient option to order a sample first.
Think beyond flat
One of the best aspects of hardscaping is the ability to customize the level and appearance of your pavers. One popular hardscaping design is when a wood deck rises to appear as a wave and contains little spaces for greenery and grass — very modernistic. Don't be afraid to add different levels to create space out of different materials.
Think long term
Keep in mind the things you may want to add to your backyard space one day. You may want to add an infinity pool or a new lounge area. Either incorporate these spaces into your hardscape design for the future or be comfortable with making updates. The best way to do this is to sit down with other household members and make a list what each person's dream backyard looks like. Take into account every future possibility and decide if it's worth making space for.
Hire or DIY
Once you know what you want and you have your idea organized and ready to put into action, decide if it's a project you want to take on or if you'd rather rely on professionals. A DIY project will take longer and there will be errors along the way, but the reward for creating your own backyard from scratch to finish is incredibly rewarding. If you or your partner are intuitive enough to tackle it, go for it. However, if you want an impressive design and your vision carried out expertly, save up for a few extra months and hire professionals.
More outdoor improvements
How to create an outdoor kitchen space
Planting a late-summer garden with kids
Planning your spring bulb garden