Play It Safe When
You're Playing Outside
As the weather heats up and your family migrates outdoors, make sure your home is equipped with potentially life-saving safety gear.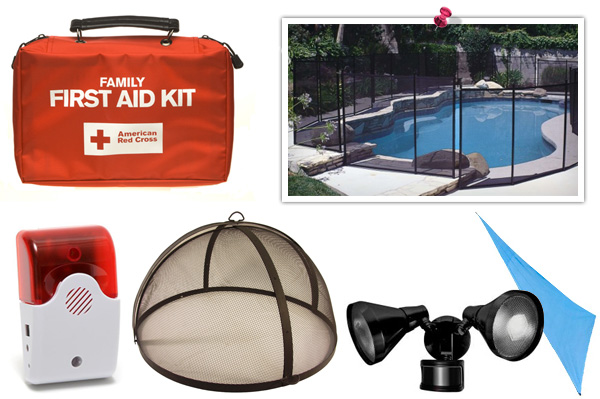 How safe is your home's exterior? Before you take advantage of the gorgeous weather outside, evaluate your home's safety. These important safety products can help you maintain your home's safety year-round.
Make sure you keep a first aid kit in an area that can be quickly and conveniently accessed from your patio, lawn, garden, garage or pool area. Stock your own kit or purchase a ready-made first aid kit to deal with common household, outdoor and sports injuries. (American Red Cross, $25)
2
Keep little ones out of the pool
Drowning is the leading cause of death and injury for kids ages one through four. According to PoolSafely.gov, drowning happens most frequently in warm-weather months. To help fight these sobering statistics, enclose your pool with a safety fence that has a self-latching and self-closing gate. Hire a pro or look into pool safety fences you can install yourself. (USA Pool Pros, $180 and up)
Drowning is silent. While nothing replaces supervision, a pool alarm can help alert you to accidental falls and unwanted intruders. A piercing pool alarm can help you reach a child in the water faster when every second counts. Test your pool alarm regularly and make sure that it's powered and functioning at all times. (Pool Supply World, $190)
4
Use a fire pit safety screen
As you gather around a fire pit on a mild summer night, make sure you're using it properly. Whether you create your own pit or use a stand-alone fire pit, cover it with a safety screen. A screen helps to contain sparks and creates a barrier to keep kids and pets away from the flames. Carefully follow directions and never leave a fire unattended. (Sears, $100)
5
Light up your outdoor spaces
Landscape and patio lighting can play a key role in home safety. Use pathway lights and entryway lights to make sure your home is easy to approach at night. To save money, use solar-powered pathway lights. New models are much brighter and function as well as electric lights. For security purposes, install motion-detector floodlights around your home. (The Home Depot, $25)
If your landscaping doesn't provide adequate shade around the home, look into using umbrellas and sunshades to create shady areas for your family and guests. Shade is important for avoiding the sun's harmful rays and for avoiding overheating. Create a permanent shade fixture or use portable umbrellas to bring out when you're entertaining. (Target, $74)
More safety
Water safety tips every parent should know
Self-defense moves that could save your life
Home security on a budget