Unique ways to decorate Books
Sick of the same old bookshelves? Try one of these wild bookcases that display and organize books in surprising ways. Let your books do double duty
as decorative pieces with these wacky bookcases.

If you're tired of bookshelves that look like library stacks, try displaying your books
with a unique bookcase. We found wacky bookcases that are surprisingly cool.
Give your books a new life as part of a wild decorative centerpiece in your home.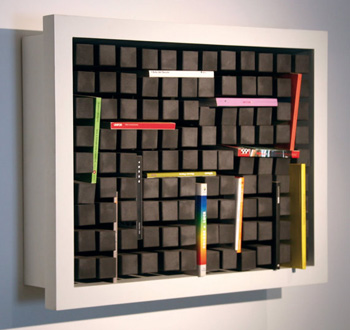 If you love playing Tetris, you'll love this wacky modern bookshelf. Designed to be playful and functional, these custom-made foam bookshelves give you the ability to insert books in a variety of ways to create your own designs as you store them. (Etsy, $2,200)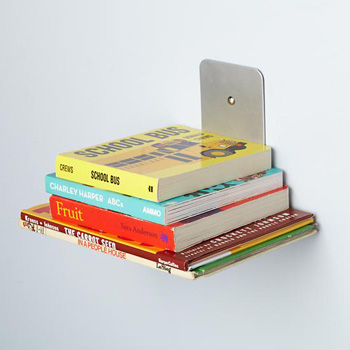 Whether you're storing books in your living area or a child's room, the invisible wall shelf is a head-turner with useful functionality. Easily keep a modest stack of books within arm's reach with an invisible shelf. Use several in a cluster for a wild bookcase that puts your books on center stage. (The Land of Nod, $12)
3
The gigantic rowboat bookcase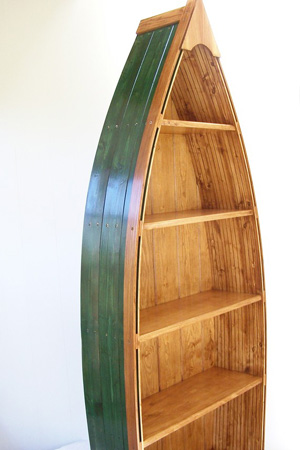 If you really love books and really love rowing, this is the bookcase for you. Tall and detailed, the boat bookcase can store books or your nautical-themed antiques. Because this piece is handmade, you won't find it in every neighbor's house. It's a great bookshelf for a traditional yet somehow very weird approach to storing books. (Etsy, $349)
4
The wild geometric bookcase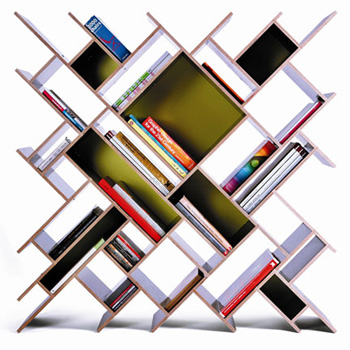 Forget baby proofing the sharp edges of this bookcase. Angles and geometric patterns make up a wild, functional design to store your books and accent your home. These quad shelving units can be customized with a variety of background colors and finishes, giving you the opportunity to make this investment a true expression of your style. (Generate, $989)
5
The industrial bookcase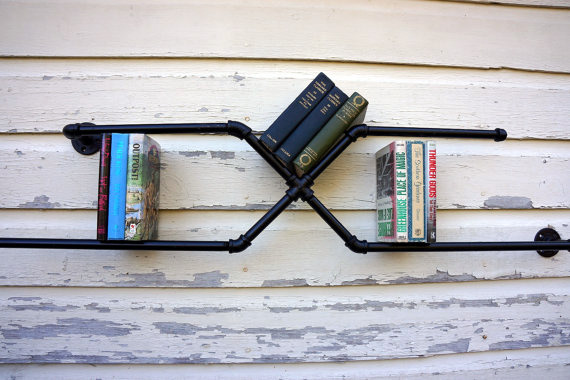 Love the look of reclaimed building materials? This industrial bookcase is made with iron pipes that give you various ways to store your books. They'll appear to float along your wall for a look that combines modern and rustic appeal, and they won't damage your books like functioning pipes would. (Etsy, $79)
8
The ultimate Star Wars bookcase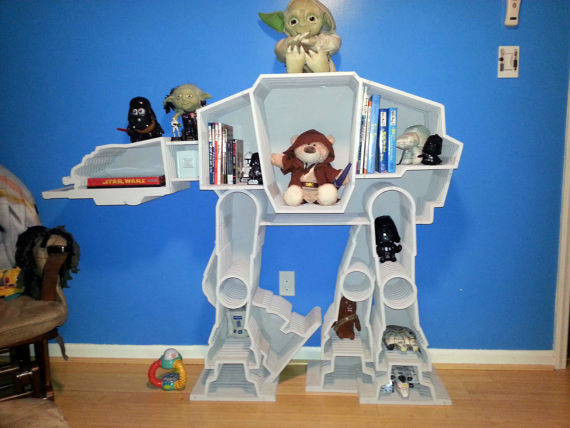 Perfect for the kid or kid-at-heart in your life, this Star Wars bookshelf is handmade in the shape of an Imperial AT-AT. Don't know what that means? Just ask your favorite Star Wars fan. The AT-AT bookcase isn't cheap, but it's a true one-of-a-kind storage piece that will stand out in any room. (Etsy, $565)
More decorative organization
Styling a small workspace
DIY fabric-covered boxes
Best IKEA storage products