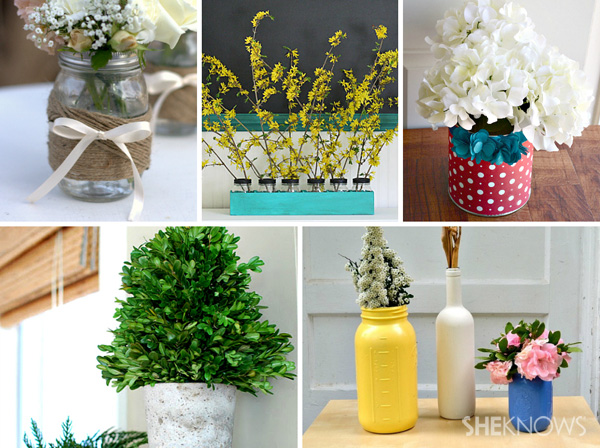 Cheap decor pieces
for your barbecue
Memorial Day is the official kickoff to summer, so why not celebrate with a fabulously decorated BBQ? Play off the low-key, casual theme of an outdoor party with one of these shabby chic DIY centerpieces.

From rustic cans to repurposed patriotic bricks, there's a fun centerpiece here for anyone. The best part of these projects is how cheap and easy they are! Save your pennies on decorating so you have more to spend on great "fixins" for your BBQ!
1
Patterned paper wrapped buckets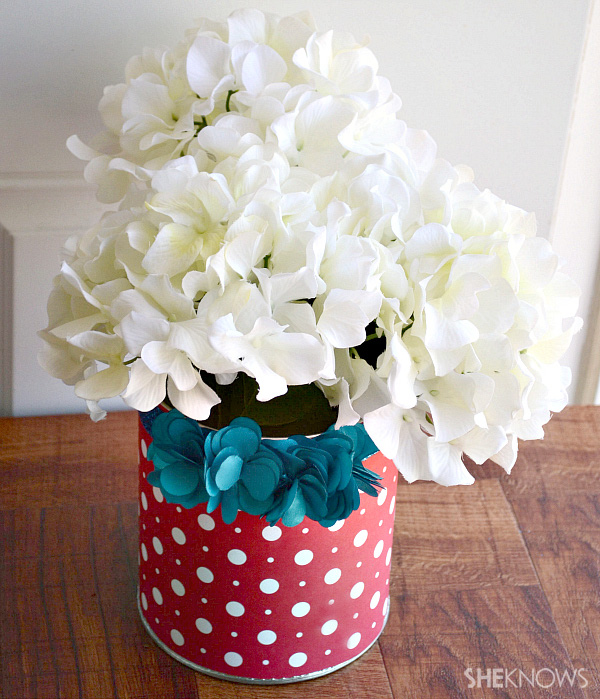 Add some red, white and blue to your Memorial Day table setting with this super cheap, chic and easy DIY. All you need is festive patterned paper, ribbon and some fun floral attachments. Although you can add your favorite blooms to this bucket, we love the simple white hydrangeas!
What you'll need: 
Beer bucket or base of a pitcher
Patterned paper
Glue
Ribbon
Floral add-ons
Check out our step-by-step tutorial here on SheKnows >>
Instantly glam up a long picnic table with this fun Mason jar flower box. The great thing about this DIY is that you can customize it completely with your favorite colors and flowers. We love the Shabby Creek Cottage's bright blue box with the yellow flowers, perfect for a summer day!
What you'll need: 
5 pieces of 1/4 inch pine wood
Mason jars, pint size
Poultry netting (chicken wire)
Pin nail gun
Pin nails
Putty filler
Colored spray paint
For the step-by-step tutorial, check out the DIY on The Shabby Creek Cottage >>
Mason jars are one of the cheapest and easiest pieces of decor you can add to your tablescape. Use up leftover canning jars and baker's twine in this fun centerpiece! In less than 20 minutes, you can have fun, shabby twine and burlap jars for your Memorial Day table!
What you'll need: 
Mason jars
Twine
Hot glue gun
For the step-by-step tutorial, check out Hey Gorgeous Events >>
If you're having a larger affair with all of your family members, why not place a few of these stunning boxwood topiaries on your table? These rustic yet simply glamorous centerpieces are easy to assemble and can be used in home decor well after the Memorial Day dinner party is over.
What you'll need: 
Fresh boxwood branches
Old ceramic pots
Foam for flowers
Knife
Scissors
For the step-by-step tutorial, check out the blog 33 Shades of Green >>
5
Painted mason jars and wine bottles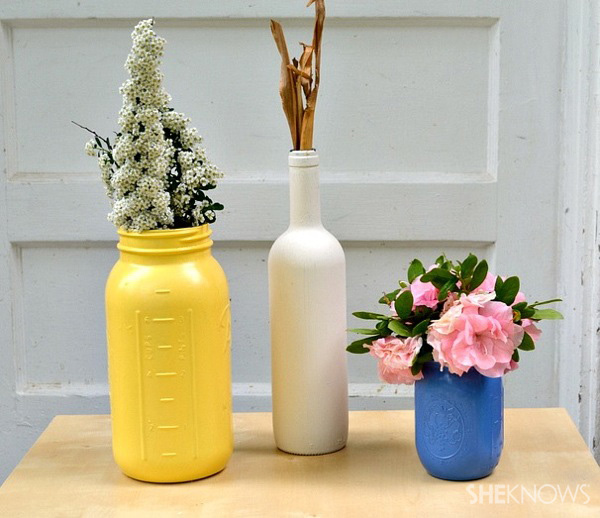 On a serious budget for your family picnic? That doesn't mean you can't still have a cute tablescape! Take those Mason jars and empty wine bottles and add some paint for instantly chic centerpieces. For a fun patriotic look, paint your bottles and jars in red white and blue and add flags instead of flowers. We love the bright yellow and blue of these jars!
What you'll need: 
Mason jars and dry, empty wine bottles
Your choice of colored paint (spray, regular or both)
Paint brush
Cardboard or newspaper
Check out our full step-by-step photo tutorial here on SheKnows >>
More DIY centerpiece ideas
DIY vintage box wedding centerpieces
DIY fruit vase centerpiece
DIY painted Mason jars and wine bottles