Appliances to
splurge on
Buying new appliances can be fun, exciting and overwhelming
(especially if it wasn't a planned purchase). And with so many options, features
and colors, it's often hard to know which are important and which are not.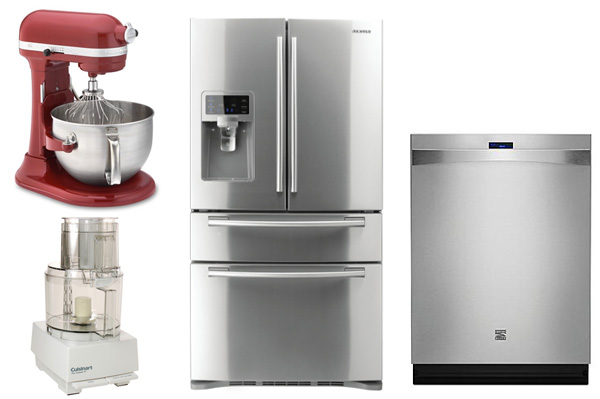 Most of these decisions come down to lifestyle, but here are
a few great tips on which appliances are worth the splurge.
1
The ultimate stand mixer
There are many options when it comes to stand mixers, but you can't go wrong with a 7-quart KitchenAid Stand Mixer. This mixer has the power of a professional mixer with 10 different speeds —  from stirring to beating. This stand mixer is a work horse and is simply the best stand mixer available. This particular model is the largest, most powerful and quietest KitchenAid available — and is definitely a must-have appliance for the novice to professional baker. (Williams-Sonoma, $570)
Food processors are one of the most universal kitchen appliances available on the market today. Food processors can mix, chop, slice, shred and knead. The Cuisinart Pro Custom 11 Food Processor boasts an extra-large 11-cup bowl and an industrial quality motor. This particular model comes with blades to shred, slice, chop, mix and knead and an extra-large feed tube. This food processor is built to last for years of use and is definitely one of the best options available. (Cuisinart Webstore, $180)
The basic functions of the refrigerator have not changed very much over the years, but their styles have. Depending on your lifestyle and household situation, it might be worth it to splurge on a higher-end model. The ultimate splurge is definitely to purchase a French-door stainless steel refrigerator, and it is worth the extra cost — especially if you have a large family, entertain often or just need room for large dishes and platters in your fridge. This Samsung French door refrigerator is an amazing option since it is energy efficient and it has a twin cooling plus system (to keep food fresher longer). But one of the coolest features is the power cool option which cools down the fridge or freezer portion quickly. With all of these fabulous features, this refrigerator is definitely a must-have appliance. (Lowes, $3,200)
4
More than your
standard dishwasher
Dishwashers can drastically range in price and features. Some of the features are simply aesthetic, but many are important. Two things to look for in a great dishwasher are energy efficiency and the noise level. Energy-efficient appliances will save you money over time, and having a dishwasher you can run while holding a conversation is a feature well worth the upgrade! We love the simple elegance of this Kenmore Elite stainless steel dishwasher because it is about as quiet as it comes, has a quick start memory button which remembers the last wash setting used, has six wash settings — from gentle to pots and pans — and has many other amazing features that make this well worth the upgrade. (Sears, $1,200)
Fun ways to put those kitchen appliances to use
Microwave carrot cake recipe
Microwave magic! Lemon meringue cupcakes
To-die-for microwave caramel sauce