Easy ways to embrace Easter at home
Welcome to Decorating Diva, where every week we share fresh, fun ways to update your home and spice up your living space! Easter is around the corner, and we're rounding up some fun ways to give every room a bunny-inspired boost.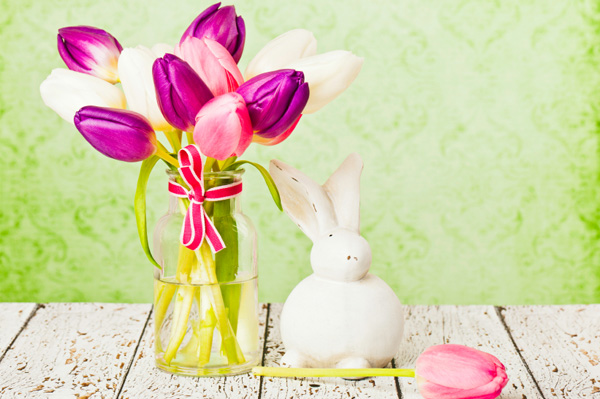 For some seasonal decorating tips that even the Easter bunny would love, we turned to Mitra Morgan, chief curator and co-founder of Joss & Main.
Getting started
The first step in creating an Easter theme is picking a palette. Morgan suggests starting with greens and yellow or white, which offer a more modern spin on the holiday. You can also go with traditional light blues and pinks, which also provide a festive yet subtle ambience. "At Joss & Main, we like twists on traditional Easter pastels," she says. For example, if you're using purple or green, decorate with multiple shades of those colors, or if you're decorating in blues or yellows, try adding hints of metallic to spice thing up. "Think about a turquoise green Easter egg partially colored in gold, or kitchen table seat cushions with silver undertones. Even metallic vases can amp up traditional flower arrangements for the holiday."
Morgan also points to the growing trend of incorporating orange into your home at Easter. "It adds a pop of nontraditional color, while still keeping in tune with your other decor."
What you need and where to put it
Easter is the beginning of spring, so no matter which direction you take your bunny-inspired decor, the goal should be to keep things light and airy. Carry this idea of spring-time freshness into the rest of your home, including the kitchen, living room and bathrooms, Morgan advises. "It's easy to spruce up these rooms for the holiday with items that can be interchanged based on the season."
If you're not sure where to start, there are many ways to add some Easter flair to every room. "Runners on your table make a kitchen space look modern and fresh without the hassle of hanging things. Put out a decorative bowl and fill it with brightly colored Easter candy so you're not losing the element of fun. Pastel pillows on your living room sofas create a new feel without looking overly decorated," notes Morgan. In the bathroom, she suggests switching out your towels to fit your palette and adding little touches, like a ceramic bunny or decorative soaps, to add some tasteful personality and a sense of fun.
Our picks for some room-by-room Easter decor
Living room

egg ornaments from Williams-Sonoma ($30), soiree candleholders from Crate & Barrel ($5), colored tall cylinder glass vases from West Elm ($30 to $40), leisure blue pillow from CB2 ($40)
Kitchen

bunny cake stand from Pottery Barn ($50), hop to it wall graphic from Supermarket ($60), Easter jacquard dishtowels from Crate & Barrel ($13), Easter multi-dot table runner from Pottery Barn ($69)
Bathroom

egg soaps from Gianna Rose Atelier ($25), sitting bunnies from Pier 1 ($4 to $7), echo ruffled towels from Horchow ($12 to $16), butterflies shower curtain from Target ($20)
Tip
When shopping for Easter, Morgan recommends looking for nonseasonal items that are readily available. "They help pull your entire look together and can be used at other times during the year," she explains. "Tablecloths, towels, pillows, plates and even lamps are some good options. Find items that you would always like, rather than making purchases you don't love just to fit the Easter theme."
Keeping it stylish — not cheesy
The key to decorating for Easter without getting cheesy is to use delicate touches rather than going over the top. "Keep things simple: Small and subtle items make for an overall classy and elegant statement," she says.
For example, if you have a faux floral wreath on the front door, keep flowers throughout the rest of the house natural, advises Morgan. "Even a play on traditional Easter eggs can veer away from tacky arrangements: After kids are done searching for their Easter baskets, put the eggs into a gorgeous white bowl and place it on a countertop as a decoration," she says. "Remember that Easter is the transition into spring, so pastel and white products in moderation are modern and will last the full season."
More from Decorating Diva
Top 5 home decorating don'ts
Prettiest patterns to add to your home
Make your home pop with purple home accents