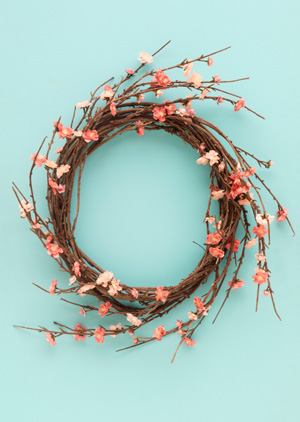 Welcome to Decorating Diva, where every week we share fresh, fun ways to update your home and spice up your living space! As much fun as winter can be (cuddling up by a crackling fire, playing in the snow), there's just something about spring that gets us excited to decorate. That's why we're sharing some simple but effective ways to add a splash of spring to your space.
We asked design and entertaining expert Mark Addison for his tips for easy ways to give your home a boost just in time for a new season. "Spring is the season of renewal and new beginnings, and most of us need a good dose of both after long, cold winters," he says. With that in mind he shares some spring-inspired decor ideas to transition your home to warmer weather.
Defrost your decor
Where to start
One of the best places to start your spring refresh is right at the front of your home. "The front door is the most visited place in your house, so why not start updating for spring there?" suggests Addison. "Door decor isn't just for holidays, and it's a great way to repurpose your holiday wreath and turn it into a living wreath," he advises.
How to: You can update your holiday wreath by using a wire form, some moss and floral wire. Addison suggests the following plant combinations for a fresh and welcoming look for spring: ivy and pansies, herbs and potato vine, and mini succulent varieties.
Don't want to DIY? Three spring wreaths we love: Live succulent wreath from Pottery Barn ($79), Paper flower wreath from West Elm ($49), Lemon mint celosia wreath from Williams-Sonoma ($70)
Spring accents to add
Moving indoors, celebrating spring can be as easy as adding the right accents. Addison suggest pillows as the best choice. "Pillows are worth a thousand words in decorating and are the easiest and least expensive way to re-dress a room for spring," he says. "An eclectic collection of floral patterns with geometric designs adds a whimsical touch to your living room or bedroom alike."
Our pillow picks for spring: Myrtle pillow from Crate & Barrel ($35), Cabana geometric pillow from Pier 1 ($20), Butterfly print pillow from CB2 ($37)
Floral-inspired ceramics are also a good bet, since they're stylish as well as functional. "These are really hot for spring as objects of art and can be put to double duty as serving pieces," Addison says.
Some must-have ceramic finds: Peony portrait platter from Anthropologie ($58), Julia Knight lily bowls from Horchow ($35), Charlotte egg platter from Pottery Barn ($46)
Spring: A room-by-room approach
Give every room in the house a spring upgrade with Addison's room-specific tips.
Bathroom: Add floral or herb-scented candles and pair them with a floral-print rug (not a bathmat) for an instant spring garden feeling in the air and underfoot.
Bedroom: Some cringe when they think of a chintz bedroom, but Addison says the new chintz is a big and bold fresh version of the classic busy design. Update your bedding with decorative shams for your existing pillows to incorporate this trendy look into your bedroom.
Living room: Bring the outdoors inside with found items turned into objects of art. Addison suggests embellishing a picture frame or mirror with painted driftwood twigs for an organic vibe in your living room.
Hot hues to embrace
Colors that are named after flowers — rose, lilac, iris — are a solid decor choice for spring, advises Addison. He likes to pair them with stronger colors in the flora family (such as ivy, fern, bark and stone) to make them pop.
To really make a statement with your spring decor, pull your go-to hues from a single bloom. "A dynamic color palette can be created by pulling all of the tones in a single flower to include a base color, highlight color, contrast color and neutral color," explains Addison. "It is an interesting exercise anyone can do to personalize their decor scheme to their favorite flower."
Tell us
How will you be updating your space for spring? Share in the comments below!
More from Decorating Diva
Top 5 home decorating don'ts
Emerald home accents we love
Easy ways to upcycle your stuff