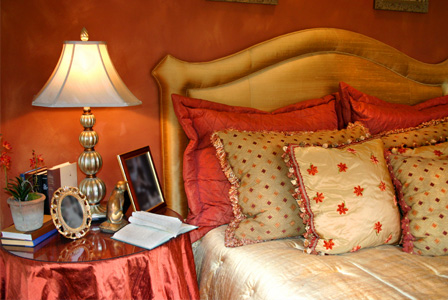 Welcome to Decorating Diva, where every week we share fresh, fun ways to update your home and spice up your living space!
Don't try this at home
While we love sharing tips on things you should do to enhance your home, there are also a few decor don'ts worth mentioning, and we're covering some of the biggest.
Accumulating things like vases, candleholders, mirrors and various other decorative accents is easy, and so is displaying them on every surface in your home. But having every table, countertop, mantel and windowsill covered in various accessories can create a messy, cluttered look that detracts from any style potential your home has. We know it's tough, but commit to boxing up or giving away anything you no longer like or need, or that doesn't in any way enhance your home's appearance. You'll notice an immediate difference, and your space will feel fully refreshed.
Whether it's a tropical theme or a room decorated in varying shades of a single color, decorating with a specific theme in mind can backfire in the style department. Themes can instantly make a room look dated, not to mention it locks you into buying only pieces that match the theme, even when you get sick of it, which you inevitably will. If you're tempted to create a "blue" room or a "cottage" room or a room inspired by your trip to Jamaica last winter, don't do it. You can add elements of your favorite places or colors to various rooms — doing so reflects your personality, which is good — but keep it subtle, rather than over the top.
3
Relying on furniture sets
Heading to a big-box store and ordering an entire matching bedroom or dining room set might seem like the best way to outfit your home, but do you really want your home to look like you bought everything out of a catalog? Being too coordinated (everything the same design, color of wood, similar size) means your personality can't shine through, and you'll have a hard time customizing your space. Rather than relying on full sets, mix and match to create a look that's unique and shows your personal design aesthetic.
4
Trying too many
trends at once
Trends can be a lot of fun, but since they come and go so quickly, getting caught up in trying to cram as many trends into your decor as possible will end up looking dated — fast. The smarter, more cost-effective route to take is to start with larger pieces that are classic and won't look out of date in a year (couches, coffee tables, etc.). Then you can add trends in the form of smaller and less expensive accessories. For example, if art deco is in, don't commit to a pricey couch and love seat — embrace the trend with pillows, vases and artwork, which easily can be shifted out once you want to try something new.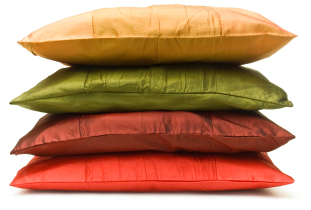 Even though pillows are a great way to embrace trends and easily can add a pop of bright color to any room, you can have too much of a good thing. A couch so full of pillows that guests aren't able to comfortably sit is too much. A bed with so many pillows arranged on it that it takes you 10 minutes to fight your way into bed is too much. Instead, use pillows as accents only, not as a focal point. Two or three on a couch is enough to make a statement without creating clutter.
More from Decorating Diva
Brighten up your winter with bold home accents
Emerald home accents we love
Easy ways to upcycle your stuff