Add some love
to your decor
Welcome to Decorating Diva, where every week we share fresh, fun ways to update your home and spice up your living space! If you're not into a houseful of hearts, there are other, more stylish ways to embrace Valentine's Day at home. We've rounded up some of our favorites.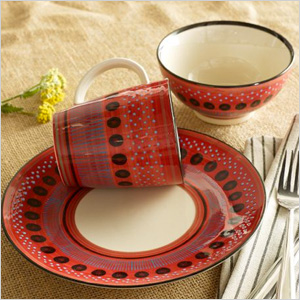 Tableware
In the days leading up to February 14, we suggest switching some of your regular tableware for these stylish red stoneware pieces hand painted in a chic bead-like pattern. The mug, salad plate and bowl make a Valentine's-inspired addition to any table without going over the top (West Elm, $8-$12).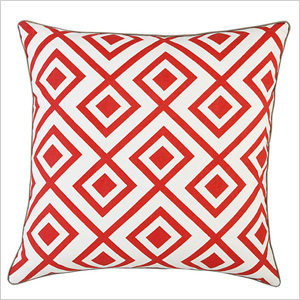 Red diamonds pillow
We were immediately drawn to this eye-catching red and white pillow with all-over diamond print that would make a vibrant Valentine's Day style statement. The best part? Even if you buy it specifically for February 14, you can easily integrate it into your everyday decor well after cupid packs up his arrows (CB2, $35).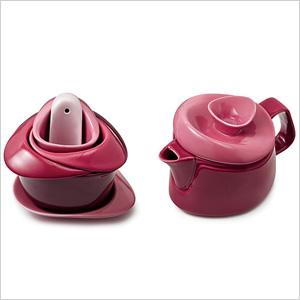 Rose teapot set
Tea time just got a little more colorful with this adorable pink porcelain tea set designed in the shape of a rose. Each part of the rose-shaped set serves a different function once disassembled, including a plate, a bowl, a tea strainer, a small scoop and two tea cups. The delicate design and rosy hue make this unique set a perfect Valentine's Day accent (Uncommon Goods, $65).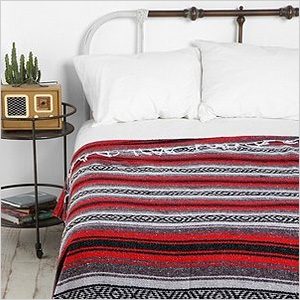 Blanket
If, like us, you don't love the thought of trotting out an overly pink throw or a blanket covered in hearts, you can still embrace the red and pink theme of Valentine's Day with this cozy woven throw in a rustic red and black pattern ideal for leaving on the bed for particularly chilly nights, or draping over a chair or couch (Urban Outfitters, $24).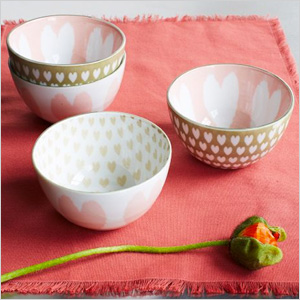 Printed bowls
Leave these pretty porcelain heart-printed bowls on the counter filled with candy or chocolate leading up to Valentine's Day, or use them to serve dips and snacks when you entertain. These cute bowls would also make great Valentine's Day gifts for your kids' teachers or anyone else you want to give something small but useful (West Elm, $8).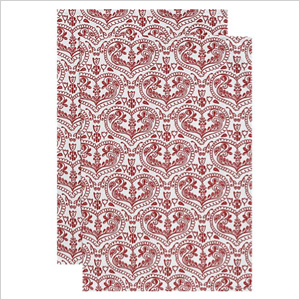 Dish towels
Give your kitchen a splash of vibrant red color with the help of some bold tea towels featuring a repeating heart pattern that's more stylish than cutesy, which we love. Not only are they fun and festive, they make for a simple way to switch things up in the kitchen (Crate and Barrel, $13).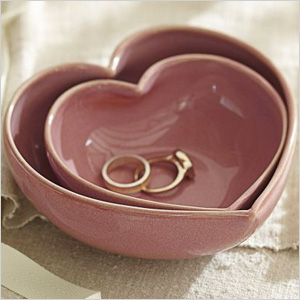 Nesting bowls
While we have been trying to minimize any home accents that are overtly geared toward Valentine's Day, we just couldn't resist these heart-shaped glazed stoneware nesting bowls in a soft shade of pink. Use them as standalone decorative accents or to house loose change, jewelry and keys (Pottery Barn, $19).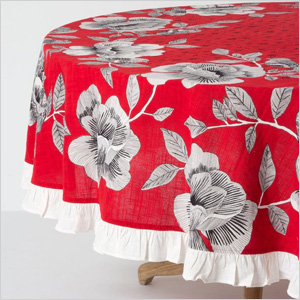 Tablecloth
Whether you're hosting a Valentine's Day cocktail party or an intimate dinner for two, spice up your table setting with the help of this sketched cotton rose tablecloth in a gorgeous shade of red. It may be perfect for February 14, but it's also neutral enough to use all winter long (Anthropologie, $98).
More from Decorating Diva
6 Home decor trends to try this winter
Brighten up your winter with bold home accents
Emerald green home accents we love