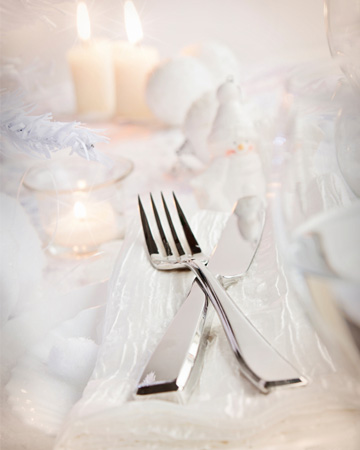 Entertain at home
Welcome to Decorating Diva, where every week we share fresh, fun ways to update your home and spice up your living space! Winter entertaining is tough. There are no patios to lounge on or pools to sit by, plus you're wiped out from hosting countless holiday parties. But we're here to inspire you with some new ways to please guests all season long.
Winter white cocktail party
We love the idea of using the crisp whites winter is known for as the backdrop to a cold-weather cocktail party. Using candles, tablecloths and runners, serving platters, and balloons and streamers all in white, create an elegant display that will instantly get guests in the mood for a good time. Serve spiked white hot chocolate topped with marshmallows and white chocolate martinis, and offer smaller bites to accompany your winter-themed beverages. Try mini cups of cauliflower soup for easy sipping, individual salads of grilled green and white asparagus, crostini topped with sautéed white beans, and strawberries dipped in white chocolate. We also suggest having guests come to the party wearing all white.
Comfort foods potluck
There's nothing better than comfort food on a cold day to help you forget all about the sleet and snow swirling around outside. So why not gather a group of your nearest and dearest and have each of them bring their favorite comfort-food dish? To keep things organized and avoid doubles (or triples) of one dish, ask guests to RSVP with the dish they plan to bring. If there are guests who don't like to cook, have them supply things like bread, salads and snacks. Once everyone has arrived, set up a long table with plates, bowls and cutlery so everyone can serve themselves. For beverages, we suggest mulled wine, hot apple cider, or red wine sangria with cranberries and orange slices.
Winter wonderland picnic
This one only works if you aren't currently under several feet of snow and the temperatures aren't at frostbite levels. But if the weather where you live is fairly mild, you can move the party outdoors (yes, we're serious). Thermoses filled with hot soups, stews or spicy curries, crusty bread, and warm drinks are all perfect wintertime warming foods ideal for a cold-weather picnic. Pack several thick blankets and throws and choose a location that has a covered area (such as a gazebo or barn) in case the weather turns nasty. When you're not eating, get active with a game of touch football, snowy Frisbee or capture the flag.
Chili cook-off
Chili is one of those quintessential winter meals, so we think it would be fun to base a winter party around everyone's favorite cold-weather dish. If you have the space, you can have people actually cook during the party (start earlier in the day so there's time to cook, eat and mingle), but if there isn't room, have guests create their favorite chili recipe at home and bring it over. Try to get as many different variations as you can (vegetarian, white bean, chicken, etc.) to keep things interesting, and provide ballots so everyone can vote for their favorite. Have a small prize on hand for the winner (an apron or wooden would spoon work well).
Stylish soup buffet
Keep guests warm with a buffet of several different soups. Choose one cream soup, one vegetarian option and one of something lighter, along with bread, croutons, fresh herbs and seasonings so your friends and family can dress up their bowls to their own tastes. Package up leftovers into Mason jars along with print-outs of each soup recipe while everyone is mingling and having a good time, and leave the jars by the door. Guests can then grab their soup of choice along with a recipe card as a parting gift.
More from Decorating Diva
6 Home decor trends to try this winter
Brighten up your winter with bold home accents
Give your home an instant upgrade for the New Year