Easy decor
A Super Bowl party is the least pretentious of all events. When you're deciding on decor, think about ways you can use existing items in your home, says Pedersen, who loves doing a tailgating indoors theme for Super Bowl parties. "Wool blankets are great for table covers, and you can make your own centerpieces by putting fresh flowers in an insulated cooler," she explains. "Grab some footballs or sports magazines and use them as fun accents. Go to a party store and stock up on cheap trinkets like streamers and balloons in the teams' colors, toothpicks with footballs on top or paper cups with NFL logos." Super Bowl parties are the perfect opportunity to cheese it up!
Cool to-dos
Pedersen is big on making all the guests comfortable. "Make sure you have ample and comfortable seating for everyone," she says. "It doesn't matter if you have to pull random chairs from all over your house." The entertaining pro also suggests serving easy finger foods so that no one is stuck in the kitchen. For extra entertainment, create a group fantasy football game and give a prize to the winning team. Hosting wives or girlfriends who only watch the Super Bowl for the halftime show? "Consider planning one or two non-sports activities, like a jewelry party," suggests Pedersen. "I really like Silpada. While the guys are fixated on football, women can shop together." And don't forget about the kids! Set up a designated area with puzzles, coloring books and other games, and they'll be entertained for hours.
Simple noshing
Keep your Super Bowl party menu basic. Sub sandwiches — with vinegar, not mayo, so that they can sit out — are a good option. "I always have a pot of chili on the stove and then set out toppings like sour cream, chives and cheese — guests love to garnish their own chili," says Pedersen. "Another one of my favorite snacks is a sourdough bowl. I just cut out the center of the bread bowl and plop in some deli spinach dip." And of course there are the classics like chips and guacamole, pigs in a blanket and pizza. "Think casual finger foods! Serve everything in plain white dishes and then accessorize your buffet table with items mentioned above," she adds.
Get in the (team) spirit!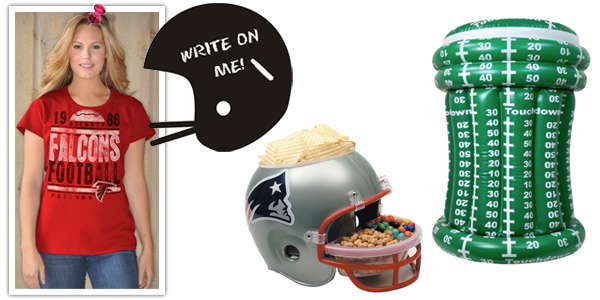 More on the Super Bowl
Super Bowl party home decor ideas
How to have a slimmed-down Super Bowl
Fancier Super Bowl appetizers