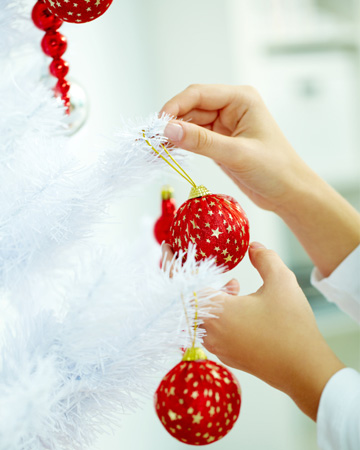 Trimming with a twist
Welcome to Decorating Diva, where every week we share fresh, fun ways to update your home and spice up your living space! Forget tinsel and Santa ornaments, this week we're sharing some fun, fresh ways to deck out your holiday tree.
All one color
Quick tip: Have friends or family who want to give the one-color tree a try? Swap colors with them next season — your all-green decor for their pretty-in-pink tree. It's a win-win.
A monochromatic tree can be a great way to do something a little different when it comes to tree trimming this year. Choose a hue that works with your decor and give your tree a one-color makeover. If you're on a budget and don't relish the thought of buying all new ornaments, start by going through the ones you do have and choose your color for this season based on what you have the most of. Tons of green baubles and lights? Go with a green tree this year, and then once Christmas is over and decorations are on sale, buy up a few boxes of a new color (or two) you can use in years to come.
Back to nature
Decorating with nature never goes out of style, plus it's a budget and eco-friendly way to spice up your tree. Adding natural elements to your decor creates a rustic-chic look perfect for the holiday season. We suggest incorporating cranberry garlands, pinecones, clementines, acorns, birch bark, dried fruits and other foraged materials. A hole in the top of a dried orange or lemon slice works well, as do cinnamon sticks tied in a bundle or dried cranberries fed onto a thin wire shaped into a candy cane, heart or star.
Choose a theme
If your version of tree-trimming simply involves using every ornament you can find, one of the easiest ways to switch things up is to get more streamlined. A theme can help you focus on a look you really want to achieve and makes for a much more stylish tree. Some options include glitz and glam (use metallic and sparkly ornaments), sweet tree (go with candy canes and gingerbread people), or tropical tree (use vibrant decorations and seashell ornaments).
Feathers and ribbon
If you want to keep things simple but eye-catching, think about decking out the branches of your tree with ribbon and feathers for a feminine but colorful look. Choose one color or two shades of the same color and pick up some feathers and ribbon in those hues. Tie ribbon on the ends of branches and then insert feathers among the boughs for an easy way to do something a little nontraditional.
Photo tree
We love the idea of taking a sentimental approach to tree trimming this year. Whether you use Instagram photos, last year's holiday shots, or old snapshots from long-past family get-togethers, print out pictures in a size of your choice (not too big), mount on sturdy card stock and hang on the tree, or buy some green and red clothespins and pin pictures to the branches. Add twinkle lights in white to complete the look in a way that doesn't take away from the main event — all those fab family photos.
Try DIY
Feeling crafty? There are lots of options to trim your tree without relying solely on store-bought ornaments. Some simple options:
Tie ribbon to holiday cookie cutters (that you no longer need) and hang those on the tree.
Hang small paper doilies on the tree with twine through a hole punched at the top.
Dip pinecones in glitter and hot glue gun a pipe cleaner loop to the top so you can hang them on the tree.
Glue fabric scraps onto heavy card stock. When dry cut out holiday shapes (trees, Santa hats, stars) and hang from the tree.
Holiday wrapping paper framed in mini dollar store frames look festive hung from the tree.
TEll us
How are you decorating your tree this year?
More from Decorating Diva
Holiday home accents to add festive flair
Easy ways to upcycle your stuff
Make your home pop with purple home accents