The holidays are approaching which means entertaining and baking season is upon us! You'll likely be spending more time than normal in the kitchen, making turkey and all the fixings, baking cookies for cookie exchanges and more pie than you know what to do with. Why not look cute while you do it? Etsy has a huge selection of handmade aprons, and we've picked a few favorites to add a little pizzazz to your cooking routine.
Cute cupcakes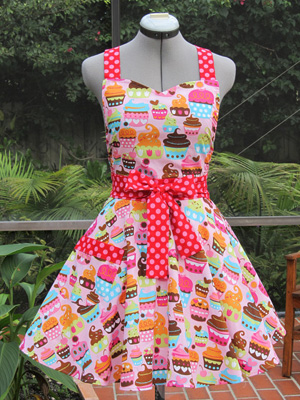 This adorable cupcake apron from Etsy shop Aqua Mars Boutique may actually make you want to cook just so you can put it on. It screams fun with its brightly colored cupcake fabric and full, flouncy skirt. It comes complete with coordinating pink fabric for the ties and even has a pocket. You'll be twirling around the kitchen as you bake your cookies.
Monogrammed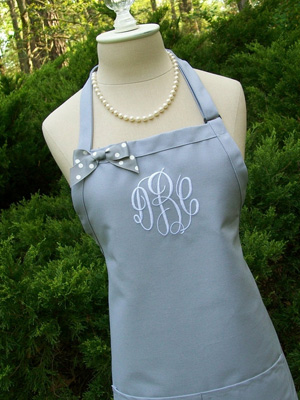 If something simple and practical is more your style, we are loving this gray monogrammed apron from Etsy shop Bow Peep Aprons. A little bow on the top adds just a touch of fun. If you'd prefer a little more color, the shop has several options to choose from, and you can customize your apron by selecting the color and style of the monogram as well as the color of the bow. With two huge pockets, this apron would be great as a crafting apron as well as one you cook in.
Pinup girl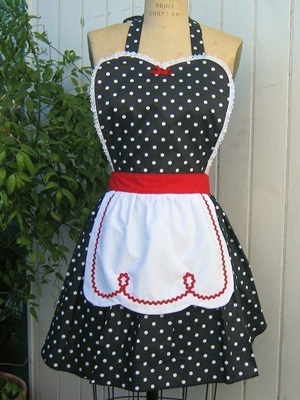 Who says you can't look sexy while you cook? This retro apron from Etsy shop Lover Dovers Clothing is made to look like a vintage pinup girl dress. You'll love the lace trim and the cute white apron sewn on that will make you feel like you are wearing a dress, not an apron. Grab your stilettos and start baking! You might have flour in your hair and sugar all over the kitchen, but you'll look adorable in this apron.
Chevron and aqua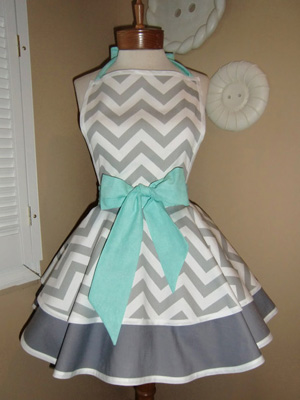 We're pretty much in love with this chevron print apron with aqua accents from Etsy shop Mama Madison. The tiered skirt is full and bouncy giving it an ultra-feminine look. The best part is the shop owner also makes coordinating aprons in kid-sizes so you and your little helper can be baking twins. She also has several seasonal aprons if you really want to get in the spirit!
More Etsy goodness
Etsy roundup: Fall wreaths
Etsy roundup: Vintage home decor
Etsy roundup: Functional kitchen accessories