Purple craze
Welcome to Decorating Diva, where every week we share fresh, fun ways to update your home and spice up your living space! Purple is one of the hottest hues in home decor this season, and we share some stylish ways to add it to your home for a playful yet on-trend pop of color.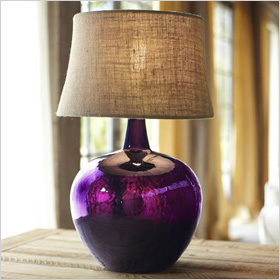 Luxe lamp
Light things up in any room by finding a spot for this luxe purple lamp base (modeled after an old wine jug) that adds color without hindering sophistication ($170). The vibrant yet versatile base suits most shades, and we especially love the mottled texture that seems to intensify the rich eggplant color.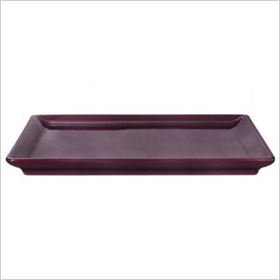 Platter that pops
We know what you're serving is what really takes the cake, but why not elevate your favorite dessert or go-to side by presenting it on a pretty platter? Since we're currently all about purple, our pick is this simple but colorful tray in our new favorite hue ($40). Scratch resistant and dishwasher safe it's as functional as it is fun to serve on.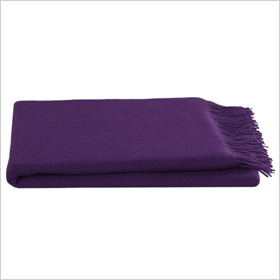 Chic throw
Replace your old tattered TV-watching quilt or basic blanket with this cozy yet chic throw in a sumptuous shade of amethyst ($169). Whether it's draped on the back of a chair or draped across your shoulders, the rich hue adds a layer of elegance to any room.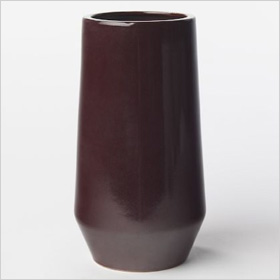 Pretty in plum
Display your favorite fall flowers in this pretty plum vase made from ceramic earthenware ($30). A grouping of two or three filled with bright yellow blooms accented with green would make a gorgeous seasonal display. We suggest filling these with fall leaves or evergreen boughs for a twist on holiday decor.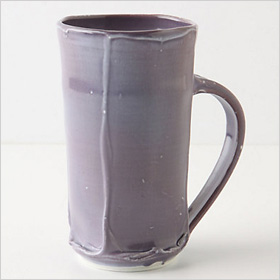 Mad about mugs
Mugs aren't just a vehicle for your morning latte or cup of tea; they can also add a pop of color to your kitchen counter. When you find that perfect mug, your latte just tastes that much better. Our new favorite is this rustic-chic porcelain mug in a soft shade of purple ($38).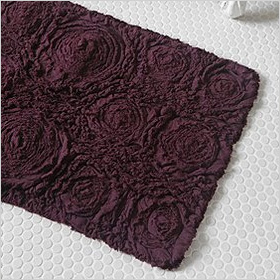 Roses are… purple
Breaking away from neutrals in the bathroom is a great way to breathe new life into the room without having to repaint. Start with this soft cotton bathmat in a rich shade of purple ($34). We love the textured swirling rose design, and the color makes the mat an ideal accent for lighter bathrooms.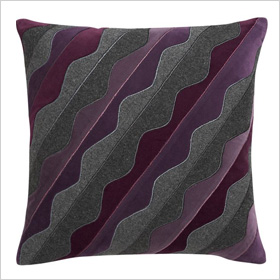 Playful pillow
Pillows should be fun and offer you a way to switch things up at home without having to make major changes. We're currently coveting this richly textured pillow in shades of purple and gray ($30). Soft gray felt and purple cotton velvet alternate for a bold way to spice up your couch.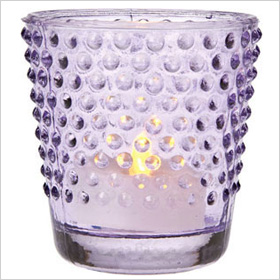 Vintage twist
Create instant ambiance by filling several of these vintage-inspired candleholders with tea lights ($2). The pale purple glass holders with retro hobnail design would make a stylish addition to any coffee table, mantel or even window ledge.
More from Decorating Diva
Prettiest patterns to add to your home
Create a cozy cooler weather oasis
Add a taste of the tropics to your home