We have Sabrina Soto, decor expert, HGTV host and author of Sabrina Soto Home Design here to share her top design tips with SheKnows. This week she's helping us decorate for Thanksgiving! "Thanksgiving really gets the mind flowing with beautiful decor ideas and allows for the creativity to kick in," she tells us. "I love the warm colors and the fall decorating, being surrounded by the autumn colors gives you the feeling of warmth and family."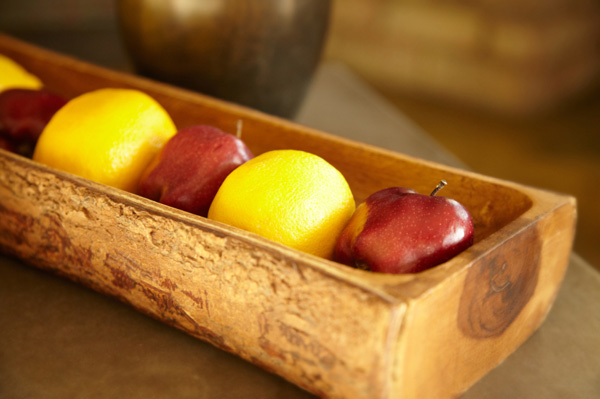 Thanksgiving decorations
One of the easiest ways to embrace Thanksgiving at home is to bring the outdoors in and use them to enhance your space. "The beautiful autumn colors of the changing leaves are perfect inspiration for your Thanksgiving decor," says Soto. She suggests incorporating fall hues such as shades of mustard yellow, tangerine orange and mocha brown into your decor (think striped and plaid patterns on pillows and throws). "Woven baskets filled with pinecones and sunflowers, pumpkin spice or brown sugar and fig scented candles, leaf themes and wheat stems in a vase are also beautiful little touches to make your space Thanksgiving-ready," adds Soto.
Thanksgiving tabletop ideas
Trade your standard fall bouquet for some fresh tabletop ideas. Soto shares some simple but eye-catching tablescaping ideas we love:
Fill a hurricane vase with mini pumpkins and colorful gourds or pinecones.
Create a beautiful vase arrangement with fall leaf branches and wheat stems available at craft stores or check your backyard.
Wrap a large pillar candle in cinnamon sticks, tie with ribbon or twine and enjoy the delicious scent.
Fill a festive bowl with apples and pears.
Thanksgiving accent ideas
If you're looking for even more ways to accent your home in homage to Thanksgiving, there are a few things you can do. "Pumpkins and gourds always bring the warmth of fall and Thanksgiving. They're easy and simple to display and versatile for a little creativity," suggests Soto. Thanksgiving-inspired napkins and napkin rings are also great (and budget-friendly) ways to add some seasonal charm to your table.
If you want to create storage while enhancing your space, beautiful autumn-hued baskets and bowls make for excellent home accessories and decor for the holidays, Soto advises.
Thanksgiving ambiance
Candles are very versatile and a great way to give your home a Thanksgiving twist. "Use them as centerpieces and embellish with mini pumpkins or pinecones," Soto says. "Candles are also great for your sense of smell. Make your home feel warm and inviting with Thanksgiving scents like apple spice or pumpkin."
Entertaining tip
Before guests arrive, Soto suggests popping something sweet into the oven. "Nothing says 'hello' like the fresh scent of pumpkin pie," she says. It's also a good idea to have your table set in advance. "You want to create your Thanksgiving atmosphere before your friends and family arrive."
Colors to consider
Other than red, orange and yellow, there aren't a lot of hues that scream "Thanksgiving," or so we thought. Soto says there are actually a few more options to choose from. "If you want to spice up those traditional Thanksgiving colors, consider adding hints of coffee browns, pine greens and plum purples," she says. "Mixing in a few new colors will add a fun spin on your typical holiday color scheme."

More decor tips and trends
Decorating Diva: Our best fall entertaining guide
Watercolor-inspired decor
Top decor problems solved with Sabrina Soto
Photo credit: WENN.com