Stay warm in style
Welcome to Decorating Diva, where every week we share fresh, fun ways to update your home and spice up your living space! Brr… it's getting cold out there. Kill the chill with our tips for creating your very own chic but cozy oasis for fall and winter.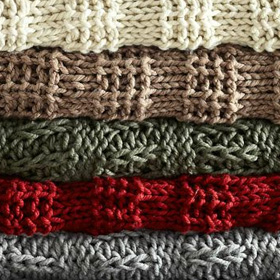 Add blankets and throws
As the temperature outside takes an inevitable nosedive, be prepared with many warming layers. A cozy cable-knit throw draped across the back of a couch, oversize pillows and piles of neatly stacked blankets on chairs and on shelves create the perfect antidote to the wind and cold outdoors. Not to mention, strategically placed layers are an effortless way to transition your home decor into cooler weather. There's nothing quite like cuddling up on the couch on a frigid day and sipping hot cider or a glass of wine while wrapped in your favorite throw.
Our pick: Just try not to wrap yourself up immediately upon seeing these ultra-cozy throws hand knit in reverse stripe design ($129). We're partial to the gray, but they come in a variety of fall-ready shades.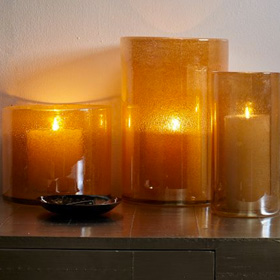 Create some cozy ambiance
Nothing says warm and cozy like candles, so we suggest stocking up on various sizes and lighting things up at home. Several larger pillar candles grouped together on a mantel, a row of votive candles along the coffee table or a series of tapers in an ornate holder on the dining table all offer simple but stylish ways to add warmth.
Our pick: Create a warm glow with a few of these iridescent glass hurricanes in rose gold ($34 to $69). They emit a lovely golden light perfect for fall when filled with pillar candles.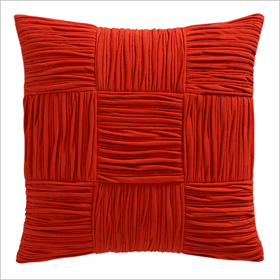 Switch to warmer colors
Summer was all about pastels, bright pops of pink and beach-inspired hues that had us daydreaming about long walks in the sand (and ice cold cocktails). But if you really want to warm things up for fall and winter, it's time to adjust your color palette. Add accents such as pillows, vases, stools and even art in warming hues like plum, oxblood, ochre, caramel and deep orange to give your space a rich, sumptuous look and feel.
Our pick: Toss a couple of these shirred burnt orange pillows on a neutral chair or couch for an instant dose of added warmth ($40).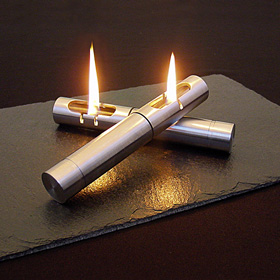 Enhance the hearth
If you have a fireplace, now is the time to make use of the mantel and put it on display. Whether real or simply for show, a fireplace enhanced with accents that get noticed creates an ideal seasonal anchor for the room. No fireplace? No problem. Either invest in a floating shelf to create a makeshift mantel for candles and a vase full of fall-hued blooms or think about buying a table fireplace to really increase the cozy-factor in your home.
Our pick: Generate Tabletop Fireplace ($419) is a miniature stainless steel fireplace designed to look like two burning logs. It emits both heat and light for a dual warming effect.
More from Decorating Diva
Our best fall entertaining guide
Prettiest patterns to add to your home
Decorating with your guy in mind