Mad about patterns
Welcome to Decorating Diva, where every week we share fresh, fun ways to update your home and spice up your living space! This week we're getting the scoop on four of the best and boldest patterns and prints to add to your space — and how to do it.
We asked Michelle Workman, Los Angeles-based interior designer behind the homes of various celebrity clients, including Jennifer Lopez, John Travolta and Kelly Preston, Kirstie Alley and Leah Remini, for her insight into fall's must-have prints and patterns.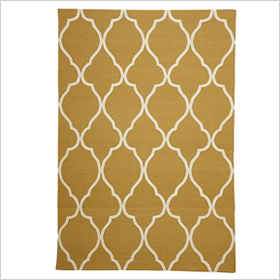 Fretwork
Geometric patterns are one the season's biggest home decor must-haves, but Workman takes that one step further by citing fretwork as one of her top choices. "Fretwork designs are big this fall. It's a bold geometric that is supremely transitional, from contemporary to traditional," she explains. "Dhurrie rugs are a great way to bring in a fret pattern."
Our pick: We found a simple but stylish fretwork dhurrie rug in golden sunflower hue ($249), perfect for an entryway or to add interest to a neutral room.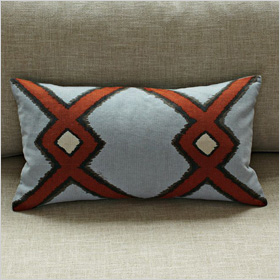 Ikat
From fashion to nail art and everything in between, ikat has maintained its place in the style spotlight for a few seasons and shows no sign of fading into the background just yet. Workman suggests adding the eye-catching pattern to your home if you haven't already. "I love the 'blurry' geometry of an ikat — another great transitional fabric for fall," she notes. Her go-to way to embrace ikat: some simple throw pillows.
Our pick: Spice up your couch with this diamond ikat pillow cover in pale blue with bold red ikat pattern ($24).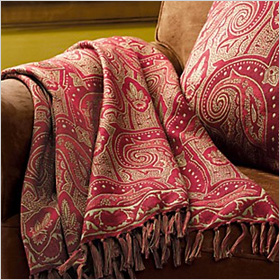 Paisley
Beautiful cashmere throws or shawls were the original inspiration for paisley, so Workman suggests finding a lovely throw in that pattern for your sofa or a chair. "This classic and iconic pattern has enough history to make it timeless," she explains. "It's always perfect when you need a 'busy' fabric to balance something plain or geometric."
Our pick: Toss this pretty pink paisley throw over any piece of furniture for a timeless, feminine touch ($130).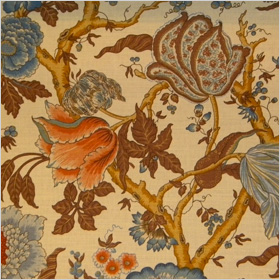 Tree of life
It's not just a Brad Pitt movie; Workman has been noticing the pattern of the same name showing up in more and more homes this season. "One of my personal favorites, this pattern is a microcosm of nature and generally very colorful," she notes. Her suggestion for the best way to use it is to reupholster an existing chaise in the tree of life pattern. "It's a great way to show the whole repeat pattern uninterrupted."
The pattern also works if you're doing upholstered walls. "The large/long repeat makes this a smashing use of the pattern, and creates a bold and beautiful statement," Workman says.
Our pick: Cover a chair, chaise or even a pillow in this elegant tree of life patterned fabric ($15/yard).
Pattern trends — explained
Workman explains that what these patterns all add up to is a general movement toward fabrics that were highly fashionable in the Victorian era (and earlier) and originated in the East: India, China, Africa, etc. "They have sort of a British Colonial feel; think British East India Company who were importers of the period, or 'Out of Africa' in terms of looks and feel," she says. "This also shows a more global transitional look that has recently been made popular by designers like Martyn Lawrence-Bullard or John Robshaw."
Tell us
What are your current go-to patterns to add to your home? Share in the comments below!
More from Decorating Diva
Spookly but stylish decor ideas
Decorating with your guy in mind
Add a taste of the tropics to your home