With the holidays quickly approaching, you'll likely be throwing or attending family gatherings, dinner parties and other events filled with lots of food. Instead of using the same old serving dishes, add a little charm to the table with these handmade finds from Etsy. If you are attending a party, these would also make a nice hostess gift. Simply add home-baked cookies, a side dish or include a few of your favorite recipes that the host can make on their own.
Ruffles and lace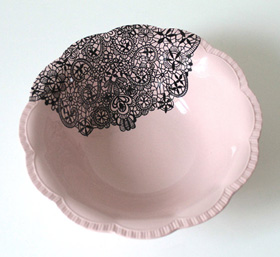 This pink bowl with a lace embellishment from Etsy seller Yvonne Ellen will add a feminine touch to any tablescape. The scalloped bowl has a vintage look and would be perfect if you filled it with macaroons. The shop also sells plates and other dishes with similar lace embellishments so you could fill the table with these girly pieces.
Chips and dip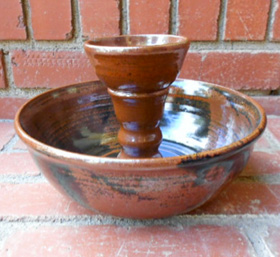 We're loving this stoneware chip and dip dish from Etsy seller Bonnie the Potter. The rustic, earthy colors are perfect for a fall tablescape. This dish is pretty enough to be a focal point on the table, and the fact that it is functional is just a bonus. Chips and dips are a staple at most gatherings so you'll likely get a lot of use out of this piece.
Honeycomb and handles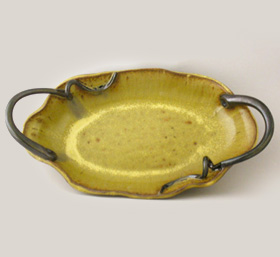 We're envisioning this honeycomb-colored stoneware dish piled high with homemade mashed potatoes or a selection of roasted veggies. The handles make it easy to move and pass around the table. Nstar Studio has a beautiful selection of stoneware dishes. The best part — this dish is dishwasher and microwave safe! It would make a lovely gift for someone who likes to do a lot of entertaining.
Hand-painted pears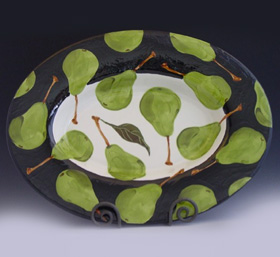 This hand-painted dish from Etsy shop Romy and Clare is for anyone who wants a touch of whimsy and a pop of color on their table. This shop offers several coordinating items as well so you can have a whole set of adorable pear dishes. The color palette is versatile, making it a nice choice for a fall table or a bright option to use come spring.
More Etsy goodness
Etsy roundup: Fall wreaths
Etsy roundup: Vintage home decor
Etsy roundup: Functional kitchen accessories