Spooky accessories
we love
Welcome to Decorating Diva, where every week we share fresh, fun ways to update your home and spice up your living space! This week we're rounding up some of the cutest (and spookiest) Halloween home accents.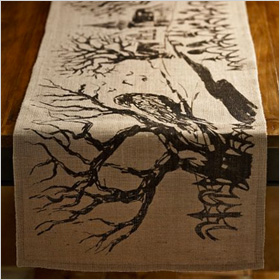 Table runner
Add an eerie element to your next meal with a table runner perfect for Halloween ($49). It's spooky, but not cheesy, which we love. Plus the neutral hue means setting the table any way you like is a snap. Add a row of tea lights down the center of the table for even more eerily festive atmosphere.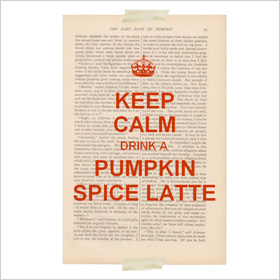 Halloween print
We've all heard the saying, "Keep calm and carry on" but have you heard this one: "Keep calm and drink a pumpkin latte"? Well, now you can have the piece of sage, seasonal wisdom on your wall ($9). The cute quote is printed on the page of a rescued (very old) book, adding to its charm.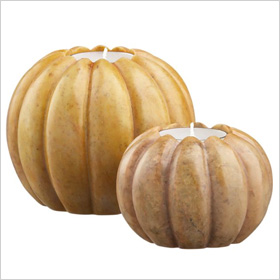 Marble pumpkin candleholders
While Jack-o'-Lanterns are great, not every pumpkin needs to have a face. Case in point: these elegant pumpkin-shaped candleholders made from soapstone marble ($9 to $17). Add a few to your mantle or group two or three together for a Halloween-inspired centerpiece that would also work through to Thanksgiving.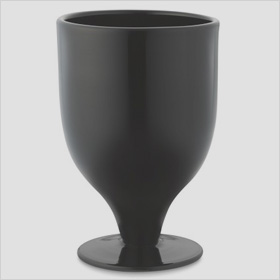 Wine glasses
Serve your spookiest beverages in this set of four dramatic black goblets perfect for a fright night feast ($40). Each glass is mouth blown and hand shaped for a decidedly elegant effect. We suggest bringing these out at any Halloween party and serving the most bewitching brew you can think of.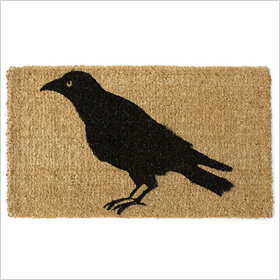 Black crow mat
Show any guests who come to the door (trick-or-treaters included) that your home is a Halloween-friendly zone with this stylishly spooky doormat ($27). The durable mat features the silhouette of a crow that projects a slightly ominous air.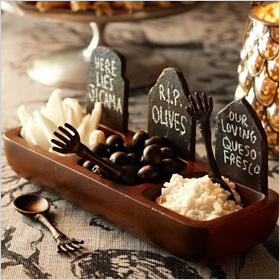 Tombstone condiment set
Hosting a Halloween party? This quirky but cute condiment set is the perfect addition to your spread of spooky treats ($50). The wooden vessel (for dips or sauces) features three tombstone-shaped chalkboard labels and spoons with skeleton-shaped handles.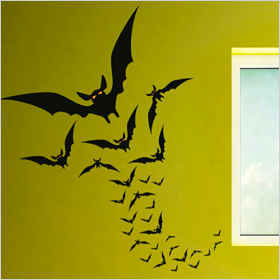 Flying bats wall decals
Have a little fun with your walls this Halloween by decking them out with these quirky wall decals in the shape of flying bats ($24 for 30 bats). We suggest sticking the vinyl critters near a window, but you can also pop them anywhere, from doors to windows to mirrors.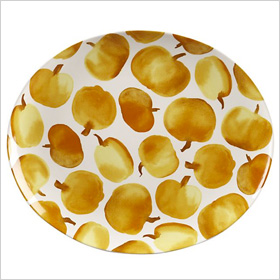 Pumpkin platter
Serve your signature dish or an array of sweet treats on this pretty autumn-inspired platter ($30). We love the fact that while it's covered in pumpkins, the earthenware tray doesn't have to be relegated to one day only. The design is subtle yet offers a great way to embrace Halloween at home.