While we love watching HGTV's House Hunters and following homeowners as they choose their favorite of three houses, we're always curious what the house looks like when the new owners settle in. In the new series House Hunters Renovation, buyers look for a budget-friendly house that's in need of a little TLC. They work with a designer who will help them create their dream home, and we get to see their new space revealed.
The show premiered on Sept. 23 with designer James Radin giving his signature Hamptons' look to a Cape Cod home. We spoke with the busy Hollywood designer and got the dish on renovating (and decorating) a Cap Cod gem.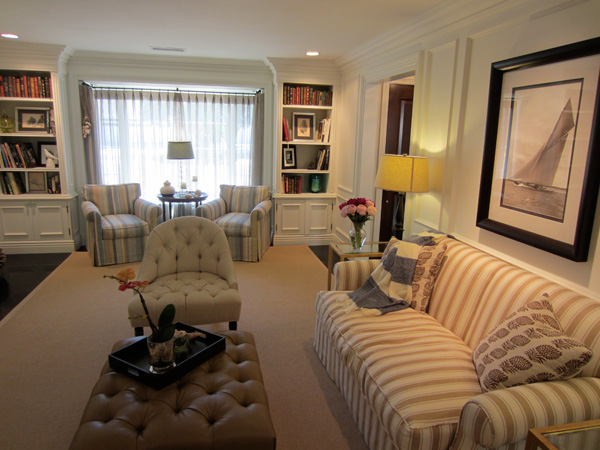 SheKnows: When looking for a fixer-upper to renovate on a starter budget, what's important to keep in mind?
James Radin: Space and light, it's one thing that's hard to add later. Look for a good feature you can build on. A pretty stair or fireplace, or nice windows. A focal point. I also think a realistic goal is important.
SheKnows: What areas should you focus the budget on?
James Radin: Do a budget first and list everything you need. Every lamp and table and picture. Then put in a cost for every single thing. Add it up and most likely it's more than you want to spend. Now you can play with the individual prices until it matches your budget. This way you can more easily phase your purchases. You might think it's best to spend big on, let's say, a sofa. But one great sofa in an empty room? It's the complete picture we're after.
SheKnows: What are some architectural details that makes a Cape Cod house so special?
James Radin: Molding, baseboards at least 6 inches and crown molding (not wimpy), wainscoting and, of course, beadboard, use it like wallpaper.
SheKnows: What are the key decorating elements necessary for achieving a stylish Cape Cod look?
James Radin: Natural materials. Linen, cotton, sisal, rusted metal, painted furniture, bleached wood. The color blue. Think beach. Light colors. Stripes. Matchstick blinds. Mercury glass. And white painted woodwork.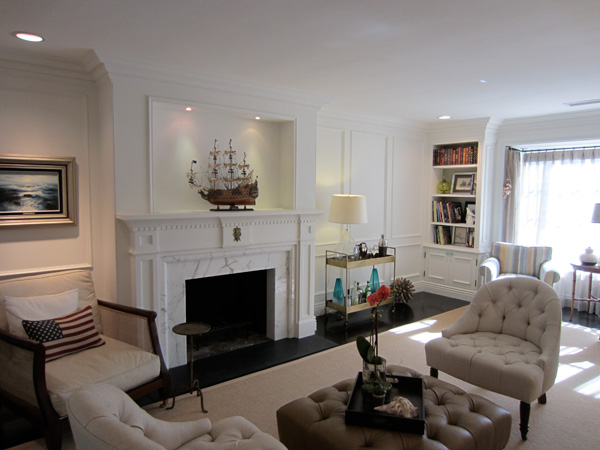 SheKnow: What's your secret for putting together your signature "Nantucket/Hamptons" design style?
James Radin: I think the trick is to keep the fabrics and colors simple. Maybe one printed fabric. Then play with mismatched upholstery shapes and sizes. A mixture of tables, just not too many wood colors. And finally try for a contrast between the wall and furniture. Not all white. I use a lot of woven texture (kind of like grass cloth), but a light beige paint will make the molding pop as well as the furniture. The look is thrown together, but under control.
SheKnows: We adore your set designs (The beach house in Something's Gotta Give was lust-worthy). Which has been your favorite set design project and why?
James Radin: The cottage in The Holiday was fun because it's really not my thing. A little busy, but I like how cozy it feels. That movie was fun because it was all about the contrast between the two houses.
SheKnows: What is the difference between designing for a movie set and for real life?
James Radin: In a movie the set is part of creating the character. You ask yourself "would this person have this coffee pot?" not "I like this, let's use it." The other difference is that you must give the director specific places that work with the scene and have some idea where the camera will be. You think about what's behind the actor. What will the camera see. Most of a set is never seen.
SheKnows: Is there a particular decorating style that you've always wanted to try but haven't tackled yet?
James Radin: I want someone to phone and say they're building a house in Morocco.
SheKnows: Final words on creating the perfect space?
James Radin: Everyone can have a beautiful home. In our office, we are lucky to work with a lot of very expensive things. But that's not what makes a room really successful and beautiful. Correct scale, restraint, good light, those don't have anything to do with cost.
There are so many catalogs and websites full of great stuff. Make a plan where everything functions for you. Don't just figure out the sofa, coffee table and TV. It's like planning a meal, you have to get all the courses worked out. Then your selections will fall into place.
Catch House Hunters Renovation on Sundays at 11 p.m. Eastern. Tune in on 9/30 and watch as first-time parents try to make a house a home before baby's arrival.
More decorating inspiration
Anya Sarre dishes on her nautical nursery
Taniya Nayak's secrets for decorating a vacation home
David Bromstad teaches us how to select art
Photos courtesy of HGTV.