Halloween home decor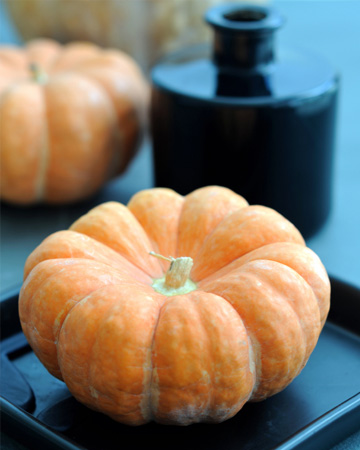 Spooky but stylish
Welcome to Decorating Diva, where every week we share fresh, fun ways to update your home and spice up your living space! Everyone's favorite spooky holiday is creeping ever closer, but that doesn't mean you have to recycle last year's plastic pumpkins and wacky witch cutouts.
This year, why not opt for something a little more sophisticated? We look at some easy but stylish ways to give your home a Halloween makeover.
Quick tip: Create a quick but eye-catching Halloween "gallery" by popping pieces of black and orange cardstock into dollar store frames (five or six) and displaying them in the entryway for an elegant play on everyone's favorite Halloween hues.
Use black and orange in new ways
Black and orange are the go-to hues for Halloween so we're not suggesting you mess with tradition, but you can put a new spin on the shades you know and love. A plush orange throw can breathe new life into a neutral armchair. Black pillows on a bold bedspread or gray couch can look chic as well as offer a nod to the spookiest day of the year. Or go one step further and choose accents in on trend patterns featuring black or orange. Orange chevrons and black-and-white plaid or polka dots in particular are eye-catching prints that can be used anywhere from blankets to picture frames as a way to have some Halloween fun with your decor.
Think harvest, not haunted house
Rather than fill your home with cobwebs and goblins, look to the season for your Halloween inspiration. Large glass or wooden bowls filled with miniature pumpkins (or pumpkins mixed with ripe, red apples) look great on any countertop or coffee table. Tall vases filled with branches tied with black ribbon make for a sophisticated (yet totally simple) piece of Halloween decor. Even orange flowers in white and black vases offer a colorful way to embrace Halloween without relying on more traditional spooky accessories.
Play with pumpkins
While the requisite Jack-o'-lantern on the front porch is a must, not every pumpkin needs to be carved in order to represent Halloween. A row of smaller pumpkins on the mantle or window ledge makes for a festive display, spray painted pumpkins in an unexpected hue (gold or white work well) offers a unique way to show off your spooky side or smaller pumpkins used as candleholders (cut a candle size hole in the top of your pumpkin after cutting off the stem) add instant ambiance to any room.
Err on the side of subtly spooky
Can't bear the thought of leaving witches, spider webs and other traditionally scary stuff out of your Halloween decor? There is a place for the tried and true, but in order to keep things on the stylish side, err on the side of subtlety. Ghost and witch silhouettes cut from black cardstock and displayed against white walls or in frames against a white background can create a spooky-chic atmosphere. A vintage birdcage hung in the living room or entryway can be very eerie. Or branches spray painted black, placed in vases around the house and draped in white cotton for a cobweb feel are also subtly spooky.
TEll us
How will you be decking out your home this Halloween? Share in the comments below!
More from Decorating Diva
Bring the outdoors into your decor this fall
8 Stylish ways to organize your stuff
Pretty pastel home accents