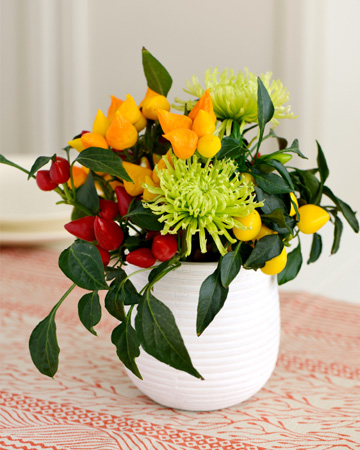 Decorate with nature
Welcome to Decorating Diva, where every week we share fresh, fun ways to update your home and spice up your living space! Summer may be coming to a close but there are lots of ways to keep things pretty and green indoors if you decorate with nature — and we're here to show you how.
What is it about the fall that lends itself so well to decor inspiration? That's what we asked Courtney Cachet, celebrity designer, TV personality and an expert for TheGift.com. She let us in on how best to bring the outdoors in this fall. "I don't know if it's the flushed cheeks, the anticipation of the holidays or the smell of fresh apple pie, but most people, myself included, love the fall," she says. "There are a lot of family gatherings and hunkering down, and I think that whole mindset just lends itself to people wanting to make things pretty and decorate."
Decor inspiration: Bring the outdoors in
Natural elements make ideal home accents, and there's no better time than fall to bring the outdoors in. "Personally, I love earthy elements that have fall-like scents: pinecones, cinnamon sticks, fresh apples and wood for burning in the fireplace," says Cachet. "Natural elements add a sense of calm and peace to any home," she explains. Whether you incorporate plants, flowers, fruit or wood, you can create a homey yet chic effect perfect for the season. "They smell great and look natural, and they add a grace to our chaotic lives."
Natural decor: Getting started
If you're worried about where to start or that you're not crafty enough to incorporate natural elements into your space, it's actually easier than you think. "Whenever you're dealing with natural elements, it's really hard to mess it up. Just trust yourself and go with however you feel," advises Cachet. "Today it might be apples; tomorrow it might be something else. That's the beauty of fall, right? There are 10 shades of orange, red and brown in as many elements of nature."
Cachet shares some simple but stylish ways to bring the outdoors into your home this fall.
Nuts: Nuts are fabulous for fall decor. They're woodsy-looking and chunky and have a mild aroma. Cachet suggests filling a jar or the bottom of a hurricane and popping a candle inside. "It looks really pretty and organic," she says.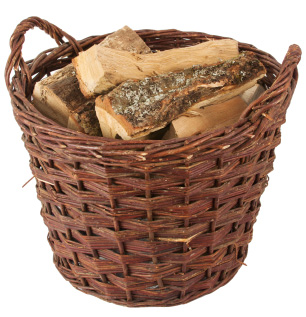 Firewood: Even if you don't have a fireplace, there's something soothing about a basket of chopped firewood that just looks cozy and warm. "This is so easy and inexpensive, but very charming."
Mini fall terrariums: Find a few tiny little gourds (available at farmers markets and some grocery stores) and put them in one or two jars with a little greenery (like moss) for a fall-inspired terrarium. "They are adorable and unique, and you could also do this as a favor for fall entertaining."
Twigs: Pairing old twigs with fresh flowers is another simple yet stylish way to bring the outdoors in. The look is rustic and totally fall-inspired.
Flowers: "Don't be afraid of your favorite summer flower for fall," says Cachet. "I love yellow roses. Typically, one wouldn't think of yellow roses in the fall, but if you mix them up with branches and burnt orange flowers, they absolutely do." Your color palette doesn't have to be solely orange and brown. She suggests a bouquet like this one to brighten up a hall table or the kitchen counter.
How else does Cachet suggest embracing the season? Just get outside. "Take a day trip to a farm, a farmers market or a day in the country if you can. It's relaxing and energizing and fun," she says. "Close the day with a cozy comfort meal and a nice bold glass of wine or apple cider and take it all in."
Tell us
Tell us: How do you use natural elements at home? Share in the comments below!
More from Decorating Diva
Fun fall wedding decor ideas
Decorating with your guy in mind
Add a taste of the tropics to your home