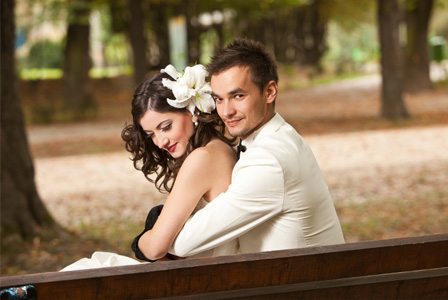 Welcome to Decorating Diva, where every week we share fresh, fun ways to update your home and spice up your living space!
Fall wedding trends
This week on Decorating Diva we're switching things up. Rather than focusing on home decor, we're talking weddings! Tying the knot this fall? We show you how to easily incorporate fall themes into your big day.
To get some insight into fall's top wedding decor trends, we turned to Tammy Carmona, founder and designer of Carmona New York & Co. and the designer behind Edward and Bella's stunning wedding scene in Twilight: Breaking Dawn Part 1. She shares her tips for on-trend decor for cooler weather weddings.
Quick color tip: If you aren't ready to shift to a deeper color palette, opt for splashes of burgundy, mustard or dark green amid a lighter overall color scheme.
Opt for deep, rich colors
While warmer weather nuptials often offer pops of pink, lavender and other soft pastels or more vibrant hues, as the temperature drops it's time for a color shift. "After a very bright summer, fall is always more toned down and warm," affirms Carmona. "Wine color is the hottest color this season, so are dark greens and all shades of mustard," she says.
Get inspired by the season
Fall is one of the prettiest seasons (falling leaves, rich colors), and one that's easy to get inspired by. "I always love to bring the outdoors in," says Carmona. She suggests incorporating leaves, bark and the raw yet dramatic look of a forest into your fall wedding decor to really capture the essence of the season.
If you're hoping to use some of the rich colors associated with fall, but don't like the idea of using leaves or bark, Carmona suggests creating centerpieces out of several shades of dark roses. "It doesn't have to be one color, use different hues to bring some spunk to it," she says. Fill mahogany wooden boxes with various roses in seasonally-inspired shades. Four or five different color combinations on each table is unique, romantic and fall-ready, notes Carmona.
Revel in romance
One of the hottest wedding decor trends of the season is a nod to all things romantic. "Brides are honestly going for more romance this fall," Carmona tells us. Some brides are incorporating the romance-chic look into their big day by adding actual jewelry to their decor, a look we love for fall. "I'm actually buying custom jewelry and adding it to the flowers, not only bridal bouquet," she notes.
When it comes to romance themes, the Twilight obsession has yet to run its course, and brides are still looking to Edward and Bella for inspiration. "Basically the Twilight frenzy is not over yet," says Carmona. "With the new movie coming out, for this fall you will still see the Twilight look, that raw forest style again."
Focus on flowers
As addition of the dark roses suggests, this fall will be more theatrical where flowers are concerned. "We're bringing romance but with a twist of drama," says Carmona. To achieve the look, several elements will be added to arrangements like wood (think twists of bark caging the flowers), metal (tinted, thin wire in various colors is being used to create a base to many designs) and fabric (ribbons twisted into flowers are being added to real flowers), she explains. Short feathers, jewels and other stones are always welcome additions to bouquets this fall as a way to create a more dramatic effect.
"With the new movie coming out, for this fall you will still see the Twilight look, that raw forest style again."
Wedding decor don'ts
Along with trends to focus on this fall, there are also a few decor don'ts to consider. "Don't think about the color of the bridesmaids dresses first and then choose flowers," advises Carmona. "Brides do that sometimes and then the wedding looks like a parade. The room is dark red and gold with green carpet, but the bridesmaids are wearing bright purple." The clash of colors can put a damper on your decor, she warns.
Carmona also advises against incorporating scented candles into your decor. It might seem like a good idea or a way to set the tone, but a whole venue full of scented candles can have an negative effect. "In your house you light one small candle and it smells nice? Five hundred of them in a closed room doesn't feel nice at all," she warns. Similarly, candles in general should never be purchased without testing them first. "Try one at home before buying the quantity you need, because people will tell you they don't spill, and then you find out that's not true, and now you've got wax all over your food."
Summer may be an ideal time to get married, but fall is emerging as a popular choice for brides who want to embrace the changing seasons and incorporate some cooler weather flair into their big day.
More from Decorating Diva
Add a taste of the tropics to your home
Falling for fall's top trends
8 Stylish ways to organize your stuff
Photo credits: 2011 Summit Entertainment, LLC