Welcome to Decorating Diva, where every week we share fresh, fun ways to update your home and spice up your living space!
Tropical twist decor
Now that summer is coming to a close, and we can already feel a chill in the air, we can't help but wish for the sunny days to stick around a little longer. With that in mind, we're giving our favorite season a permanent place in our home — by injecting it with some tropical flavor. Ah, we can feel the ocean breeze already.
We show you how to put a tropical twist on your home decor to add color and a relaxed island vibe to every room.
What you need
Before we get into drool-worthy product picks, there's a few easy ways to capture the essence of the islands without entering into cheesy "palm trees on everything" or tiki torch territory.
Plants, plants and more plants: The more greenery you can add to your home the more summery and tropical it will look.
Bold colors are key: Think pops of turquoise, magenta, yellow and orange to really make your space stand out.
Play with prints: The tropics are known for get-noticed prints. Choose a few spots (a pillow here, an area rug there) to highlight some fun, playful patterns.
Bring the beach home: The easiest way to give your home a taste of the tropics is to showcase your best beach finds, from shells to sea glass, in decorative ways. Pop them in vases, frame a mirror in shells or affix a piece of coral to a pretty base.
Product picks
We sourced some stylish ways to give your home a tropical-inspired makeover.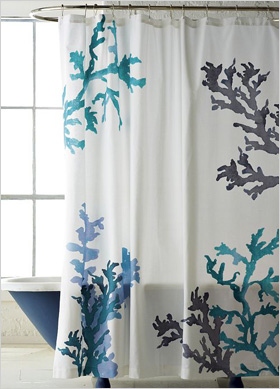 Coral reef shower curtain
Bring the beach into your home with this pretty shower curtain covered in an island-inspired coral print ($39). The stylish seascape is based on an original watercolor and printed on 100 percent cotton, which gives the shower curtain a more elegant appeal. Pair with towels in pops of blue and washed white accessories.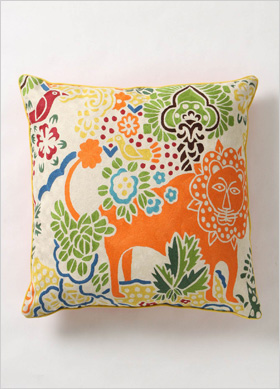 Pillow
Add a pop of color to any couch or chair with this vibrant pillow covered in tropical flora and fauna ($128). Orange, green, yellow and blue create an eye-catching pattern reminiscent of a tropical rainforest. We'll be adding this to any room that requires a bit of livening up.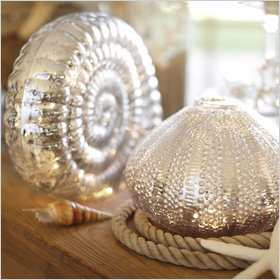 Mercury glass shells
The shells you collect at the beach are a great way to bring the tropics home, but we also suggest finding a spot for some of these gorgeous lit mercury glass shells ($38). The shimmering shells cast a soft glow perfect for adding a touch of beach-worthy romance to your space. We suggest grouping two or three together for a simple but chic centerpiece or counter display.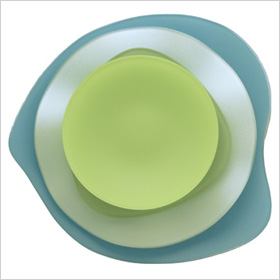 Sea glass dinnerware
We were instantly smitten with this gorgeous set of sea glass dinnerware ($156). Free-form plates in turquoise, triangle plates in green and bowls in lemon yellow make for an eye-catching table with a nod to warmer climes. The dinnerware is handcrafted in the U.S. and offers a great way to brighten up your next meal.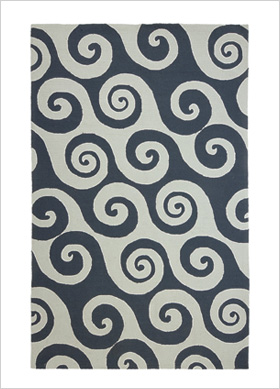 Wave rug
One of the best things about being somewhere tropical is the proximity to the ocean. We swear you can almost feel the sand between your toes as you step onto this adorable ocean-inspired rug featuring a dark blue wave pattern ($100). Add this playful piece anywhere that needs a boost.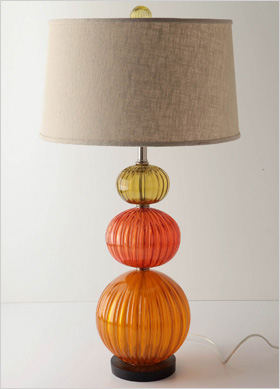 Lamp base
Nothing says topical quite like juicy citrus hues, which is why we gravitated toward this retro-inspired stacked glass lamp base in citrus shapes and colors ($348). The glass orbs in shades of bright orange, tangerine and lemon take us on a visual trip somewhere warm, and we love how great these will look on a nightstand or end table.
More from Decorating Diva
The lazy girl's guide to a clean house
Falling for fall's top trends
Pretty pastel home accents