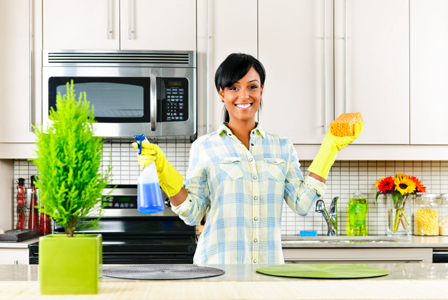 Welcome to Decorating Diva, where every week we share fresh, fun ways to update your home and spice up your living space!
7 easy cleaning solutions
There are very few people who enjoy cleaning. It takes time, effort and, let's face it, we have many things we'd rather be doing than getting every room spic and span. But getting your space spotless can be less of a chore than you think.
We show you how to get your home looking guest-ready in no time.
Clean in shorter spurts
Cleaning the house is at its absolute worst when you have to tackle everything from top to bottom. To avoid total burnout and a horrible mood to boot, clean in shorter spurts every few days. Create a schedule for what you want to clean and when and do your best to stick to the plan. That way, you never have to face the prospect of having less than 30 minutes to clean the whole house before the in-laws drop by for a surprise visit.
Invest in cute storage solutions
Mess is much easier to deal with if you have somewhere to put it. Invest in some stylish storage solutions for every room, and keeping things organized will be a breeze. Instead of your standard plastic laundry hamper, use an elegant wicker basket; trade large, nondescript containers for more eye-catching options in the living room such as antique boxes or ottomans that double as storage boxes. In the bathroom and kitchen, go the colorful route and shop for brightly-hued boxes or bins that enhance rather than take away from the decor. The more space you have to store things, the easier it is to keep your space neat.
Houseplants to the rescue
Houseplants not only look great and add a dose of cheerfulness to every room, they also keep the air clean. No, they won't do windows or mop the floor, but the more greenery you have, the better your home's air quality will be. Even if you only have room or enough light for a few window boxes, find a way to add some plants to your home.
Cut back on clutter
One of the most efficient ways to keep your home neat is to cut down on the amount of clutter that accumulates. This means going through your things (all those trinkets, vases and knickknacks on shelves, tables, counters and mantels) and tossing or donating what you don't love, need or want. The less there is to dust, the less time you have to spend dusting. Not to mention, the overall space looks better when you aren't trying to squeeze every candleholder, souvenir and candy dish you have onto every available surface.
Focus on high-traffic areas
No time to tackle the whole house? Focus your attention on the areas that get the most traffic or where the guests are likely to be. This means the bathroom, dining area and entryway. Close the doors to the bedrooms and closets, don't take anyone into the basement or den and simply ensure it's just the spots guests are likely to spend time in that get the full cleaning treatment.
Stock up on disposable wipes
Disposable kitchen and bathroom wipes (look for biodegradable brands like Greenworks) are a must-have if you need to clean something quickly. You can be tackling the entire counter and stove area while talking on the phone with just a few swipes. They really are the lazy girl's best friend when it comes to speedy cleaning.
Fold, stack and hide
When all else fails and you have no time to dust, mop or scrub, just getting things off the floor and folded makes a huge difference in how clean your home appears. Go through the house and just stack, fold and hide errant objects so at least the space looks neat (as long as no one inspects too closely).
More from Decorating Diva
Falling for fall's top trends
Pretty pastel home accents
How to create a craft corner