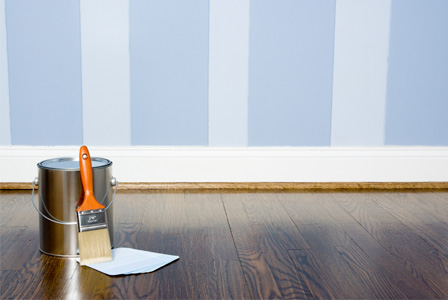 Accent walls are a great way to bring life to a room. When most people think of an accent wall, they think of one wall that's simply a different color from the rest.
Not just your ordinary accent wall
There is so much more you can do to spice up your ordinary, everyday accent wall. Here are five ideas you don't want to miss.
Stripes
Stripes are perfect for a child's room, bathroom or craft area. They're colorful, chic and surprisingly easy to do. Your job is to choose between vertical or horizontal, colorful versus muted, and wide or narrow. Start with one wall and if you feel up to it, go for the whole room. One idea is to do black and white. Black and white stripes are very clean and classic, so don't be afraid to stick to the elegant glam it has to offer.
Distressed faux painting
Say goodbye to normal paintbrushes for this look! Distressed faux painting gives an accent wall a rustic, antique feel. Simply choose two different shades in your choice of color (greens or browns work best for the classic "rustic" look), and paint on the wall with a toilet brush and a tire brush. That's right, no paintbrush is needed! The toilet and tire brushes provide uneven strokes and lines, creating the distressed feel of the wall. Once dry, cover in a light gold paint to complete the wall and make it shine!
Suede paint
Suede paintings are timeless and elegant. It looks beautiful in almost any room, but best in an office or master bedroom. The easiest way to do this is to purchase specific "suede" paint, such as Sherwin Williams or Ralph Lauren (high-quality paint is necessary for this). Swipe paint on the wall making "X" strokes about six inches in length. The "X's" should overlap and blend together for that perfect suede look. Make sure to choose a wall that receives minimal traffic to avoid scratching.
Chevron wall
A chevron wall is becoming increasingly popular in many homes. Zigzagged lines run across one wall, top to bottom. It looks fabulous in a dining room or guest bedroom. The key to achieving a perfect chevron is patience. This wall takes time. It requires measuring angles and lots of blue painter's tape. Start at the top of the wall and then measure each corner 6 to 8 inches down until you've reached the bottom. Connect the dots with the tape, and paint. You can't be anything but proud of yourself once it's done!
Chalkboard wall
This wall is becoming more and more popular among families. It's best in the kitchen so you can jot down recipes, to-do lists, schedules and more. Choose a smaller wall, as you don't need an entire 10-by-10-foot wall dedicated to a chalkboard! Another idea is to make it your backsplash between the counters and cabinets. All you need is tape and latex chalkboard paint. Easy as can be, and the results provide never-ending fun for you and your family.
Watch: How to make your own chalkboard paint
Learn how to make your own chalkboard paint.
More painting tips
Special dry-erase paint is fun and functional
How to paint a room
How to choose a color palette for your home