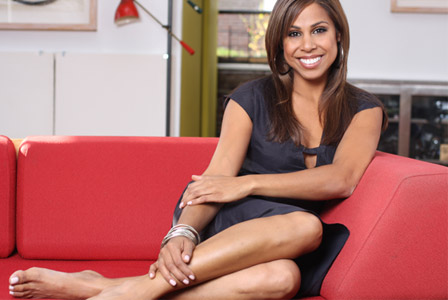 Welcome to Decorating Diva, where every week we share fresh, fun ways to update your home and spice up your living space!
Must-try fall trends
Fall is around the corner and that means a whole host of new trends when it comes to decorating your space. Not sure where to start? We're here to help.
We turned to interior designer and HGTV host Taniya Nayak for her insight into what's hot for home decor this fall. She shares some of the must-try trends of the season. "Whenever the season changes, it's a great time to change up your decor," she says. "And, it doesn't have to cost a lot of money."
Play with pattern and print
If you're bored with your current crop of home accents, now is the perfect time to switch things up. "This fall expect to see more bold and graphic prints as accents around the room," says Nayak. "This works well for stand-out pillows and rugs, which don't always have to lie on the floor but can even be used as creative wall art.
We love these bold, watercolor-print pillows ($17) from HomeGoods, available in-store.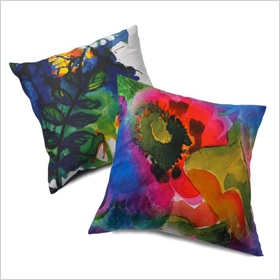 Add rich colors
While summer is all about fun pops of bright, candy hues, fall sees some richer, more sophisticated tones. "Mixing and matching jewel and spice tones such as ruby, amber, saffron, ochre and turmeric is a fantastic fall color palette and a win every time," advises Nayak. Her go-to hue for any season is chartreuse green, which works well no matter the time of year. "In the summer I would accent with crisp white and yellow, but come fall, it looks great with deep plum, teal and magenta."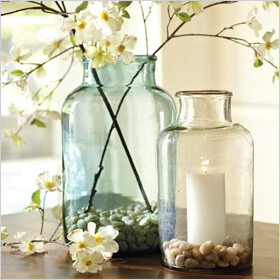 Mix and match
Beyond playing with colors, mixing and matching styles will also be big for the season, notes Nayak. "For example, combine rustic pieces and rough, natural finishes with modern pieces that have glassy lacquer and metallic finishes," she suggests. "I would pair a rustic farm dining table with modern, lucite chairs." The effect is elegance with a vintage-inspired twist.
One of these antique pickling jars would make an eye-catching addition to a more modern room.
Vacation inspiration
Gone are the days of stuffy, overly polished spaces. This season we're seeing a shift toward more relaxed decor. "Another trend I see this year is of people creating a more vacation-like atmosphere in their homes," says Nayak. "Plush area rugs in a soft gray or taupe with fresh, crisp, white bed linens give a home a pristine, yet relaxed feel."
Bring nature indoors
Fall is a great time to embrace nature and bring the outdoors in. "For example, find a branch with vibrant colored leaves and place it in a simple vase with water," suggests Nayak. She also recommends picking up some basic frames (or any that speak to you or fit with your current decor) and inserting colorful fall leaves. "You'll have instant, unique art."
You can bring a modern touch to your nature-inspired fall decor, Nayak says. "Use white lacquer spray paint to spray natural and organic elements such as rocks, pinecones, gourds or branches and display them on a dining table or console."
Get cozy
When fall comes, we tend to spend more time at home and inside than during the warm summer months. To embrace the season, add warm, fuzzy throw blankets and extra throw pillows to create more comfort, advises Nayak. "I typically change out my throws every month or so to add freshness and fun to my rooms."
We love these cozy throws with pebbly texture. Choose from slate, ivory or blue.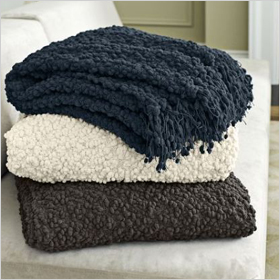 Watch: How to decorate with recycled items
Learn how to reuse items when decorating. This can be both green and budget friendly. On SheKnows.com How To, we learn the art of using off-the-wall items for giving your space that extra pop.
More from Decorating Diva
Pretty pastel home accents
Top 10 home staging secrets
Pretty homegrown hostess gifts