Say yes to pastels
Welcome to Decorating Diva, where every week we share fresh, fun ways to update your home and spice up your living space! Pastels are one of those color palettes that never seems to go out of style. The soft hues enable anyone to add a subtle dose of color to a space without going over the top. With that in mind we wanted to share a few ways to freshen things up by incorporating pretty pastels into every room.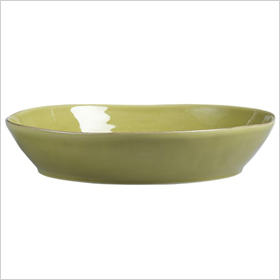 Centerpiece bowl
Add a splash of soft green to any table or countertop with this elegant free-form centerpiece bowl ($25). The artisanal ceramic piece with subtle sheen would look great filled with brightly-hued seasonal fruit or simply used as a decorative kitchen accent.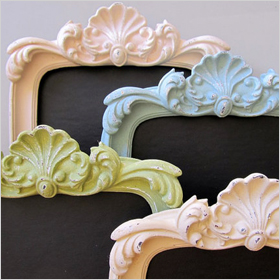 Framed chalkboard
Jot down notes, shopping items, phone numbers and other messages on this adorable pastel framed chalkboard ($34). The ornate wood frame adds a touch of elegance to your family's message center. Each one is hand painted and distressed for an antique-inspired look.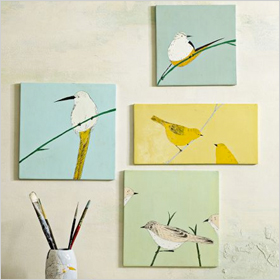 Wall tiles
Choose from four hand-painted ceramic tiles featuring beautiful interpretations of indigenous South African birds atop pretty pastel backgrounds ($49 each). We suggest picking up all four and creating a mini gallery on any wall in the house. Not only are they eye-catching, they're a great way to add some subtle color to a neutral wall.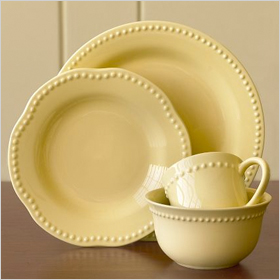 Dinnerware
Impress your guests at your next dinner party by serving your specialties on this set of gorgeous pastel yellow dishes ($142 for a 16-piece set). Beaded detailing around the edges gives the hand-glazed set a vintage twist (like something your grandma might have used), and we love the fact they're great for entertaining, but casual enough for everyday use.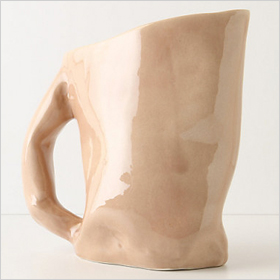 Pitcher
Whether you're serving iced tea, sangria or plain old H2O, whatever you pour will look ultra-stylish coming from this handmade pink pitcher ($128). The rustic, organic shape gives it a timeless quality, and you can easily use this piece all year round. Leave it on your counter to liven up your kitchen.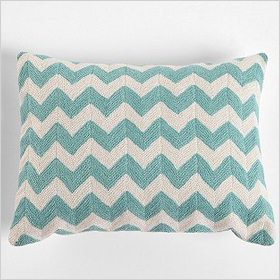 Pillow
Pillows are the perfect way to refresh your living space when you're in need of a change. They're affordable and offer an easy way to add color anywhere. We're currently coveting this crewel embroidered zigzag pillow ($39) in light blue on a white background. Add it anywhere you want to brighten things up.
Pouf
Need extra seating but don't have any space left for another chair? Opt for a stylish but space-saving pouf, and better yet, get one in pretty pastel pink ($225). This cute conversation piece will spice up any den or living room and offer a simple seating option for extra guests.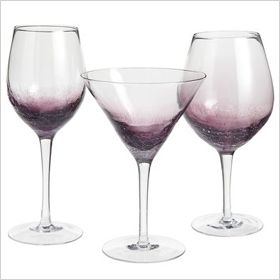 Stemware
Switch up your standard wine glasses with a few pieces of crackle stemware in pale purple ($8 each). The interesting crackle finish in the glass is achieved is by dipping the hot glass in cold water as they're being made. Simple yet sophisticated, they'll make an intriguing addition to your dining table.
More from Decorating Diva
Top 10 home staging secrets
Pretty homegrown hostess gifts
Fab finds for your bachelorette pad