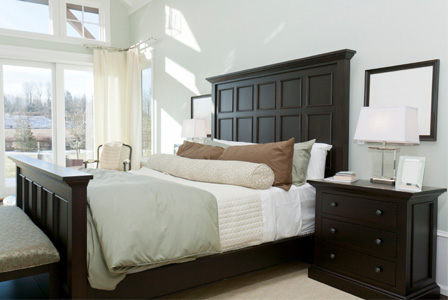 Welcome to Decorating Diva, where every week we share fresh, fun ways to update your home and spice up your living space!
Make a snappy sale
Selling your home? Then don't underestimate the power of staging to help make a sale. We share some simple but effective ways to boost the potential of your space and get buyers interested.
Clear out clutter
No one looking to buy a home wants to see someone else's mess. One of the keys to showing off the true potential of your space is to ensure it's free of clutter. A few strategically placed magazines are fine, but piles of paper, receipts, notebooks and other items that seem to gather on countertops and coffee tables should be cleared away prior to showing your home to potential buyers.
Show off storage space
Storage space is a selling feature. People want to know that their belongings are going to fit into a new space so make sure you can open closets, cupboards and drawers for them without 17 things falling out or on top of you. It's a good idea to clear some of your things out, including coats, clothing, shoes and even kitchen supplies to give the impression of ample space. Simply box up the overflow during times when you show your home.
Keep furniture minimal
Quick tip: Less is more when it comes to staging your home, from accents to larger pieces. Keep things minimal for best results.
A room with too much furniture runs the risk of looking smaller than it actually is — not a positive selling feature. You want rooms to look large and airy, not small and cramped. Take a look at each room and do some editing. If you're able, remove one item (store it in the garage, at a neighbor's house) to improve the flow and create more space. Things like extra chairs, end tables and ottomans can easily be moved during open houses and showings.
Give every room a purpose
Have a spare room you use to house everything from your sewing machine to the elliptical trainer? A lot of people do, but if you want your home to make a great first impression, give that room a singular focus. The easiest option is to turn an "everything" room into an office. Remove everything but a desk, chair and floor lamp and refer to the room as the office as people come through.
Keep walls neutral
While you may love your tangerine bedroom and electric blue den, others may not. It's easier for potential buyers to picture their stuff in your space when the walls are a neutral hue. If you have the time, it's a good idea to repaint any particularly bold rooms in off-white, soft gray or sandy beige.
Keep the master bedroom gender-neutral
Having a master bedroom that appeals to both sexes often helps sell the space. Rather than a frilly pink duvet, curtains and matching shams, switch things up to create a more unisex appeal. Opt for navy, gray, plum or even pale yellow to avoid a master bedroom that alienates the guys.
Stain dated kitchen cabinets
Dated cabinets can look, well, dated. But freshening things up goes a long way toward boosting the appeal of your home. Choose a stain that goes with the rest of the room and apply in even strokes. Further update the look of cabinets by switching up the hardware. Replace tired knobs and pulls with new ones in bright hues or fun shapes.
Make sure your space is spotless
Make a note: Clean like you mean it. This means floors, washing walls, dusting and even cleaning the fridge. People look everywhere when they want to buy a house so make sure it's spotless.
Probably the most important part of staging, cleaning your space so it's spotless will go a long way toward keeping potential buyers interested. If you don't have time, invest in a cleaning service for the day to do a thorough once-over. That way, upkeep is easier and you can spot-clean before showings, rather than have to worry about taking a full day to clean.
Consider curb appeal
Don't forget about the outside of your home when you're trying to sell. Cut the grass, weed the garden, add some potted plants to the porch or entryway, make sure there are no toys, tools or other outdoor items cluttering the yard, trim hedges and even power wash dirty siding and decks.
Light it up
People love bright spaces so wherever you can, show off natural light. If a room is particularly dark, consider getting a floor lamp to brighten it up when potential buyers come through. Keep curtains and blinds open and let as much light as you can into every room.
Watch: How to give your kitchen a face-lift on a budget
Kitchen space always seems to be at a premium. Use this video for ideas on how you can maximize the space in your kitchen. Give your kitchen a face-lift with these budget-friendly tips.
More from Decorating Diva
Bring some London style into your home
Pretty homegrown hostess gifts
Create the best outdoor space for entertaining