We have Sabrina Soto, decor expert, HGTV host and author of Sabrina Soto Home Design here to share her top design tips with SheKnows. This week, she's showing us some simple yet stylish ways to add a pop of color to every room.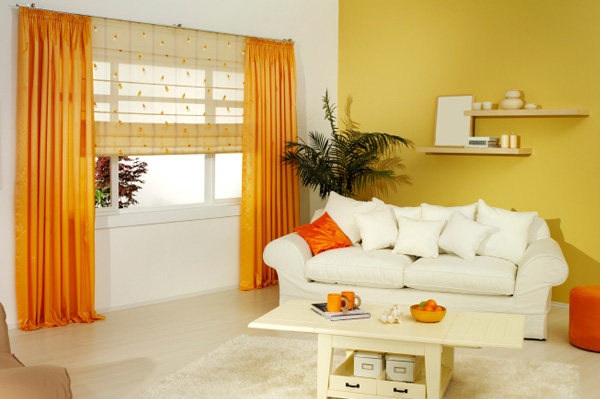 Color basics
Before you settle on a brighter palette, think about what you're trying to achieve and what you want the color to do for your space. "When choosing a bright color, it's important to know what you want your space to 'feel' like," Soto notes. Each space calls for its own go-to bright colors depending on what you're after. "To make your space feel warmer, add hues of citron, tangerine and cherry red. For cooler rooms touches of teals, chartreuse and violets work best," she advises.
In order to make the colors in your room really pop, try setting splashes of bright colors and hues against a white or almost light background, says Soto. "This softens the brighter colors and keeps them in balance and in harmony with the room," she explains.
Why add color
If you're wondering why you should consider adding more bold hues to your home, even just an accent here and there can do a lot for the look of your home. "Color is the most powerful design element," affirms Soto. "Colors add character to your designs. With character comes perception and emotion. Colors set the mood, tone and feel of any space," she explains. Adding color can also make pieces look bolder, while making others appear lighter, depending on the balance you're trying to achieve.
Most importantly, going bold can personalize your home. "The colors you choose to use in your space allow for self-expression and your personality to shine through," says Soto. "Color brings your space together and can create beautiful visual effects."
How and where to add color
Quick color tip: As design styles are always evolving and changing, you can never go wrong with any combinations of complementary hues. Try matching blue hues with oranges and purple hues with yellows. You can never go wrong with complementary color interactions.
Adding color can be as easy as choosing the right accessories and using them strategically to liven up the room. "Pillows, throws, curtains and wall art are some fun ways to add that pop of color to any given space," says Soto. The neutral shades in the room will most likely consist of more prominent pieces such as sofas or chairs. "Complementing your neutral sofa with a brightly patterned pillow or throw adds that perfect balance of color. Accessories, like frames or vases also make for an easy tool to switch out for new color schemes or designs," she adds.
Color don'ts
By the numbers: "Sixty percent of a room's color should be on the walls and bigger pieces of furniture — usually a neutral color," Soto advises. "Your first accent color should make up 30 percent and your second color should be 10 percent and can be something very bright like hot pink, tangerine or teal. But use it sparingly."
Working with bright colors can sometimes be tricky and overwhelming. How much bright color is enough? Where should you add those touches of brights? You don't want to go over the top. "When working with bright colors, it's important to maintain a color balance in your space. Painting all the walls bright will result in an intense and overpowered space," warns Soto.
No matter where you want to add color, just remember to focus on hues that make you happy. Brighter colors can easily add a stylish but playful element to any room, which immediately boosts the fun factor!
More decor tips and trends
Decorate with artwork to reflect summer's color trends
Decorating Diva: Bring some London style into your home
DIY shutter Mason jar garden
Photo credit: WENN.com