Top 10: Brit-inspired decor
Welcome to Decorating Diva, where every week we share fresh, fun ways to update your home and spice up your living space! With the Summer Games in London just around the corner, we thought we'd look at some stylish ways to add a little "Brit-spiration" to your home in honor of the biggest sporting event of the summer. Read on for our top 10 picks for easy ways to add a splash of London to your space.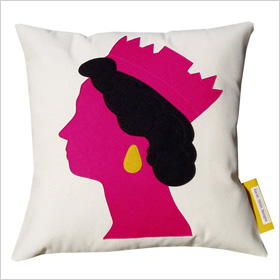 Queen cushion
Add some royal flair and a pop of bold color to your couch with this playful pillow, featuring the Queen's profile in vibrant fuchsia with a dash of lemon yellow ($65). Toss this fun accessory anywhere that needs a bit of brightening up, from the living room to the bedroom.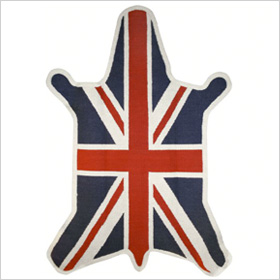 British flag rug
Show your love for all things British by adding this whimsical Jonathan Adler zebra British flag rug ($995) to your living room or foyer. Don't worry; no zebras were harmed in the making of this get-noticed showpiece. The 5 x 7 rug (and every anglophile's dream piece of decor) is actually handmade from 100 percent llama wool.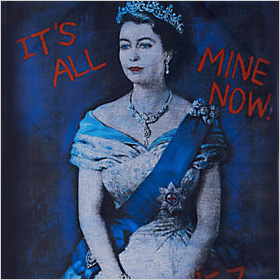 Royal print
We love this eye-catching layered digital print, featuring a portrait of Queen Elizabeth II by Karl Lohnes ($300). The artist actually digitally layered and handpainted over a 1953 portrait of her majesty by Margaret Lindsay Williams, and the result is a modern, urban twist on what was likely a much more demure portrait.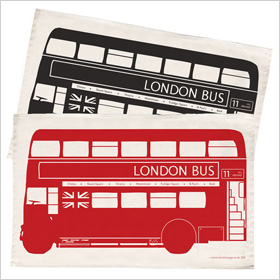 London bus dish towel
Spice up your current crop of kitchen essentials with this London-inspired dish towel adorned with a double-decker bus (route number 11, if you're curious) and featuring a bold design of the iconic mode of transport in either red or black ($16). The towels are designed and made in England from 100 percent unbleached cotton and feature the names of the stops on the side of the bus for added authenticity.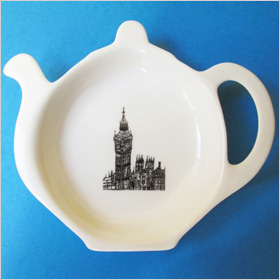 Tea bag rest
Add another irresistible kitchen accent inspired by London to your at-home arsenal with this elegant white china tea bag rest with an illustration of Big Ben on the front ($11). Practical yet totally display-worthy, we love the stylish simplicity of this pretty piece.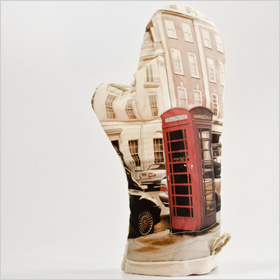 London oven mitt
Replace your boring old oven mitts with this one, featuring a scene from a London street corner ($18 for one). The versatile kitchen must-have works in both urban and country kitchens and offers a little slice of London every time you pull something out of the oven.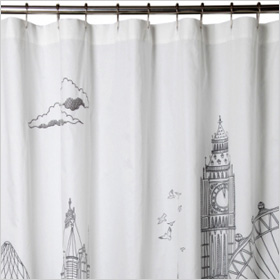 Shower curtain
Love London? Now you can start your day with a tour of some of your favorite attractions from across the pond, which all happen to adorn this chic shower curtain and the newest addition to our must-have list ($125). Get a glimpse of Big Ben, St. Paul's Cathedral, the London Eye and Tower Bridge every time you hit the showers.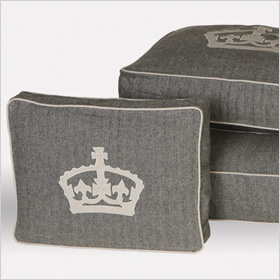 Pet bed
Give your furry friend the royal treatment by giving Fluffy or Fido this heather gray pet pillow, featuring a regal crown applique ($240). Not only will your four-legged family member feel extra-special, these pillows add a sophisticated twist to the standard pet bed.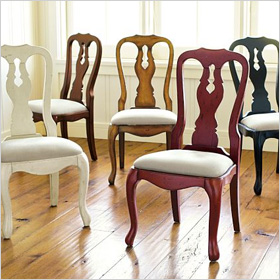 Upholstered chair
Add some serious elegance to your dining table with a few of these regal Queen Anne upholstered chairs ($229 to $279). The birch chairs come in four shades — black, French white, mahogany and Ming red, which are distressed for added character. The detailed openwork back and cabriole legs bring added grace and British charm.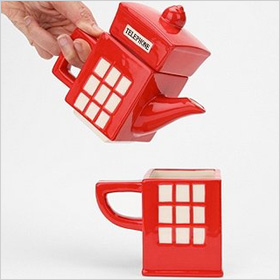 Tea-for-one set
Settle in for a solo tea party with this adorable tea set made to look like a London phone booth ($20). The quintessential sip from across the pond never looked so good. We love the playful bright red design and how great this will look on any countertop.
More from Decorating Diva
Pretty homegrown hostess gifts
Create the best outdoor space for entertaining
Where to spend and save on decor