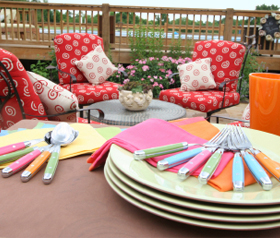 It's summertime and the entertaining is easy! We have Sabrina Soto, decor expert, HGTV host and author of Sabrina Soto Home Design, here to share her top design tips with SheKnows. This week, she's showing us how to wow guests and decorate with the season.
Whether you have a huge backyard or a small patch of grass, you'll be able to get your yard shipshape in no time with this week's tips for a gorgeous patio party space.
Optimize your space
Everyone's yard is different but the key to creating space that's conducive to guests is to make the most of what you have and use it wisely. "Think about how the space is going to be used," Soto says. For example, if you have small children around, you don't want to add too many trinkets or delicate (read: breakable) items to your outdoor space. You also want to make sure you have enough shade for your guests, she advises. "If you have a gazebo or pergola, hang outdoor fabric curtains to help soften the daytime sun."
You also want to install the right lighting if guests are sticking around after sunset, which they likely will. "I like to put string lights on automatic timers so I can enjoy the party instead of running around, plugging them all in," says Soto.
Trend alert: On a larger scale, this summer is all about creating an indoor living room and kitchen — outdoors, complete with a fireplace, flat screen TV, refrigerator and sink.
Add lots of color
Using bright pops of color in your yard is a summer entertaining must, Soto tells us. "Even if you already own patio furniture and neutral cushions, that doesn't mean you can't incorporate bright colors into your space," she says. "Lay down a bold patio rug and don't be afraid to use bold prints outside. This can include throw pillows, floor cushions, ottomans, chairs and even potted plants."
Shopping tip: Larger patio cushions, which you normally only see in neutral colors, are available in bright hues this season. Also look for neutral offerings in cooler tones for summer — light gray, charcoals and slate blues.
Another easy way to incorporate summer-ready color into your space is by adding a reusable paper runner in a vibrant shade to your patio table (think fuchsia, lemon yellow, orange or parrot green), Soto suggests. "You can also paint accent wicker chairs or a metal table a fun, unexpected color using outdoor spray paint."
Accessorize
No space is party-ready without accessories. Like adding the perfect statement necklace to complete your evening look, the right accents can really enhance your yard. This summer, Soto suggests using fun, playful garden accessories that become conversational pieces. These can be anything from statues to outdoor mirrors to small fountains, depending on how much space you have.
If you have a pool, Soto advises adding large baskets with rolled up colorful pool towels throughout the backyard. Not only is this practical, it look ultra-summery, too.
Paper lanterns or string lights are perfect for outdoor entertaining and are available at your local store in so many different styles. "They always scream summer to me!" says Soto.
Quick tip: Place pots of marigolds around your yard. They're a natural bug deterrent!
Other things to consider
Your yard is almost ready for guests. One thing to think about before sending out your invitations is what you'll be serving meals on. Your best bet is to go with something durable. "Use melamine dinner plates to avoid unexpected breaks," Soto advises. As for what's on-trend, go for something fun! "When purchasing serving platters and dinnerware, the bolder the better. You can never be too colorful in your outdoor space," she notes.
It's also important to think about durability when it comes to furniture. "Always make sure each piece is made to withstand the outdoor elements," says Soto. "Investing in patio covers will extend the life of your outdoor furniture."
Creating a welcoming, colorful, summer-ready space for entertaining doesn't need to be difficult. "Good music, shade, cold drinks set out in a beverage station, great food, plenty of seating and sufficient lighting is you all you need," says Soto.
More home decor tips and trends
Create the best outdoor space for entertaining
Ways to decorate with Instagram photos
Bold, outdoor accessories for a get-noticed yard