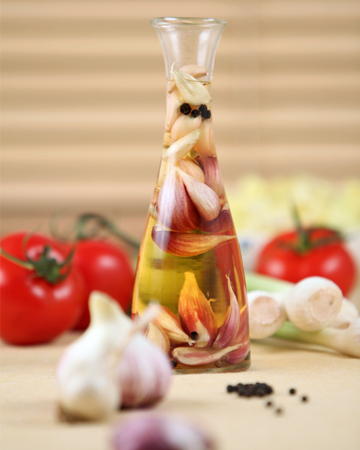 Gifts from the garden
Welcome to Decorating Diva, where every week we share fresh, fun ways to update your home and spice up your living space! If you have a garden you're not only lucky enough to reap the benefits of fresh fruit, vegetables, herbs and flowers, you can also use your bounty to create simple but memorable gifts.
We show you how to use your garden goodies in a whole host of fun, giftable ways this summer.
Hot and spicy vinegar
Know anyone who likes things on the spicy side? If you're growing hot peppers, you can easily make some vinegar with a kick to take to your next dinner party. Start by sourcing some pretty glass jars or bottles (find some unique shapes at thrift stores or garage sales). Then you'll want to sterilize your bottles by using the sterilize button on the dishwasher (if you have one), or boiling them for 10 minutes. Pick some peppers from your garden, wash them, cut a slit in each (to better release the spicy heat) and put them into bottles. Heat enough vinegar (white or unseasoned rice vinegar work well) to cover your peppers and fill your vessel to just boiling, then funnel into bottles. Let cool before putting the top on and pop into the fridge to cool before gifting.
Gift tip: Attach a gift tag with the name of the pepper you used (habanero, jalapeño) and some suggestions for how to use the vinegar (marinades, salad dressings).
Herb-infused vodka
Herbs are easy to grow and make a great addition to vodka. If you know some people who like to get creative with their cocktails, make a few batches of herb-infused vodka to keep on hand. Clean and dry a glass container with an airtight lid and place several sprigs of your herb of choice inside. You can also add additional flavorings like fruit, ginger or even hot peppers (depending on the recipient). Cover with good-quality vodka and seal. Let your mixture infuse for two to three days, shaking the jar several times daily to help the flavors release. Store your jars out of direct sunlight, at room temperature. Once your infusion is ready, strain out the herbs and decant into a sterilized bottle for gifting. You can also infuse vodka with berries, spices and other fruits.
Gift tip: Include a card with a cocktail recipe that utilizes the herbal vodka.
Scented sugars
Jazzing up plain sugar with goodies from your garden makes a great hostess gift. Simply layer granulated sugar with edible items that look decorative and are also aromatic, such as rose petals, orange and lemon peel, various herbs (rosemary works well) and vanilla beans. Let your sugar mixtures sit for a few days in tightly sealed jars so the scents have a chance to infuse the sugar.
Gift tip: A trio of sugars (one rose petal, one vanilla and one herbed) make a lovely hostess gift for anyone with a sweet tooth. The infused sugars can be used in anything from baking to coffee.
Ripe tomato basket
If you find yourself overrun with ripe tomatoes, give them to someone who isn't lucky enough to have a garden. Put several in a basket with the basic ingredients for a traditional sauce: olive oil, fresh basil, garlic and a piece of Parmesan or other hard cheese like Toscano. Your host will appreciate the homegrown produce and the addition of saucemaking must-haves.
Gift tip: Add a bag of pasta to the basket for a complete (and delicious) meal.
Flavored dipping oil
There's nothing tastier than dipping fresh, crusty bread into good-quality olive oil infused with the flavors from your herb garden. Using a funnel, pour olive oil into a sterilized bottle. Add your herbs of choice (we suggest rosemary or thyme for a tasty and pretty bottle), fresh cracked pepper, sea salt and a few cloves of garlic for added flavor. Seal the bottle, and you're ready for gifting. Bottles should be stored in the fridge and used within two weeks.
Gift tip: Package your dipping oil with a fresh baguette.
Fresh floral arrangement
Forget the store-bought bouquet and instead cut some of the best blooms from your garden and arrange them in a decorative vase (either something you buy or one you don't need to get back). Get creative and use not only flowers but grasses, eye-catching leaves and even sprigs of herbs. A handpicked bouquet in a pretty vase is a simple and stylish way to say thank you to your host.
Gift tip: Include a list of all the blooms you used in your homegrown bouquet for an added personal touch.
Pesto kit
Have a bushel of basil on your hands? Package your aromatic bounty into a flavorful gift for the host of the next dinner party you attend. Find a cute container (galvanized steel buckets are cute and reusable) and add your pesto fixings — basil, piece of Parmesan, pine nuts or other nut (walnuts work well), pasta and some good-quality olive oil.
Gift tip: Write out your favorite recipe for pesto to include with the basket.
More from Decorating Diva
Where to spend and save on decor
Fab finds for your bachelorette pad
Must-have summer style