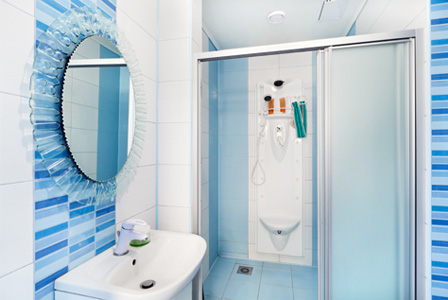 Have a tiny bathroom that is in need of some serious TLC? Don't let the size or square footage get in the way of your dream bathroom.
How to maximize
a tiny bath space
In fact, you can create a stunning, one-of-a-kind guest or studio bathroom by following these five simple rules-of-thumb. Who said tiny couldn't also be glamorous?
Before you head to Ikea and stock up on adorable little knickknacks, countertop sinks and trendy art pieces, take a look at exactly how much space you have. The number one way to ruin any decor project in any space is by adding too much stuff. Keep your ideas simple, but sophisticated, and you can have an HGTV-worthy bathroom in no time.
Personalize with details
Just because your bathroom is small doesn't mean you still can't make it your own with unique details that fit you and your family's personality. Instead of replacing all of your drab tile, why not add a few tiles of stone or mosaic? Adding these bright, festive flooring tiles will not only cost you way less than replacing all of the flooring, it'll give your space depth and color without adding clutter. If you have a bare wall, add a fun family photo gallery with different size frames and mirrors. You can also add one statement mirror, like this one, across from your sink or bathtub, which will automatically make your bathroom look larger. Some cheap ways to add personality include fun shower curtains and bathmats. Just be sure to stick to a theme or color scheme so the pieces don't clash.
Save space
When you don't have much space to begin with, the last thing you want to do is add bulky furniture or decorative pieces. Instead of adding a sink and a vanity, why not add a dresser or vanity and install a countertop sink? This saves space and gives your room a sleek, modern look. In addition, find a vanity with extra drawers or shelves so you can store towels, bath accessories and other necessities to keep these pieces off the floors. If you have a lot of bare space, install some open shelves to store clean towels, tissues or hair products.
Avoid clutter
Unless you want your small bathroom to feel and look even smaller, avoid clutter! This means utilize your available space very wisely and keep things off the floor and walls. If you can, invest in furniture and decor pieces with duel or triple purposes. Want a large vanity or cabinet? Find one with ample storage space, room for a waste basket and a sink or mirror. This way you are finding space for the things you need that won't take up extra floor space. Also keep towels or magazines off the floor and on shelves or in drawers. Bathrooms don't need excessive decorations. Keep your look simple and clean.
Choose appropriate lighting
That 1970s dull ceiling light is not doing anything for your bathroom, both from a decorating and space standpoint! If you have a window, maximize the natural light aspect by upstaging it. Add fun curtains and keep the window clean for the best lighting. If you don't have a window, invest in track lighting which gives the perception of a longer room. You can also use your lighting as your statement piece by installing a chandelier. This will instantly update your bathroom and give it a classic, glamorous feel, but it will draw the eye to something other than the size of the space.
Keep it simple
When taking on a new decorating project, it's hard not to get overly excited and caught up with different designs, colors, statement pieces and furniture. But you'll only end up with too much stuff, clashing pieces and things that don't fit. When decorating a smaller bathroom, remember one thing: Keep it simple! Feature one statement piece, like a chandelier, piece of artwork, trendy shower curtain or mosaic floor and keep the rest of the room clean cut and sleek. If you want to have brightly painted walls, or fun wallpaper, keep the rest of the furniture and decor pieces more neutral. Feature simple mechanics, like faucets and baths and make sure your design flows.
More bathroom decorating tips
Fabulous bathroom decor under $20
5 Ways to budget bathroom decor
5 Guest bathroom decor ideas