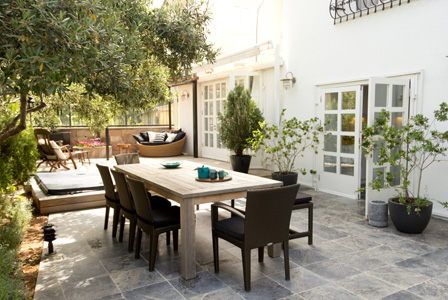 Welcome to Decorating Diva, where every week we share fresh, fun ways to update your home and spice up your living space!
Patio party perfection
There's nothing better than enjoying good food and cold drinks outdoors with friends and family. That's what summer is all about, but the key to making any patio party a success is more than merely arranging a few chairs around the backyard. With that in mind, we put together some expert tips for creating the perfect outdoor entertaining space for summer.
We asked Rachel Hollis, lifestyle expert for Celebrations.com and founder of mychiclife.com, for her tips on getting your outdoor space ready for your next patio party or backyard bash.
Choose the perfect spot
Before you start arranging patio furniture, it's important to be mindful of which type of space you're working with. "Find an area you're most likely to do your entertaining in and plan the rest of your yard around that," advises Hollis. The spot you choose should be the area most conducive to entertaining. "It's important that the space you're entertaining in be comfortable for guests, so you'll want something that has shade, that doesn't stay too hot or too cold, something with fairly level ground so it's easy to setup on and easy for guests to walk and stand on," she says. "You'll also want something that isn't too far from your kitchen for when you're serving food/drinks and an area that has access to outdoor power."
Nail down a layout
One of the most important aspects of creating the ultimate outdoor entertaining space comes down to how things are arranged. "I think it's important to figure out the best layout for your parties and then repeat the setup over and over," says Hollis. "For instance, knowing that your patio can hold one lounge area and a bar and still have a nice flow for guests to move around means that every time you can go back to that setup, regardless of the party style and know it'll work well," she explains.
Hollis also suggests keeping setup fairly similar year to year so the process is easy for everyone involved in the party. "It's also great for your muscle, aka your friends or your spouse, who often get roped into setting up with you since they've seen it laid out before they know exactly how to set it up," she says.
Keep things neutral
Quick tip: By keeping the overall look neutral you can easily incorporate elements of your party's theme. Hosting a beach bash? Add pops of bright color with outdoor pillows and accents in fun hues or vases full of shells that can be removed once the party is over.
Trends change and so do tastes and favorite colors and patterns, so it's best to keep overall decor neutral. "Since my party themes are always changing, I'm hesitant to decorate the yard in a way that's too stylized," says Hollis. "I stick with neutral colors and design so any party I might throw can easily work with what we already have in place." In terms of what's on-trend for summer entertaining, this season is all about stylish simplicity and embracing the outdoors as a place to eat, drink and have fun. "I'm seeing a lot of alfresco dining as a popular theme and because of that the decor and accessories feel sort of European style, rustic elegance," Hollis notes.
Whether you've got four acres or a small patio, some well-placed potted plants, an outdoor rug and matching patio furniture can make all the difference. The sooner you can get your yard in prime patio party shape, the more likely you are to take advantage of the weather. "If your patio looks warm and inviting all the time, then you're ready to host friends more easily," Hollis says. "With a great outdoor space, simply opening a bottle of wine and turning on your summer playlist can make for an instant party."
More from Decorating Diva
Fab finds for your bachelorette pad
Must-have summer style
How to create a craft corner