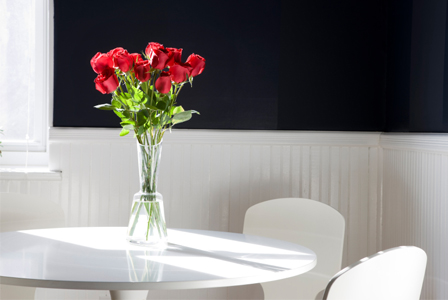 Are you ready for an easy home makeover? Want to spruce up a room but not quite sure how? Here are three simple ways to enhance any room in your house with minimal effort and cost.
Add pizzazz to
every room
Wainscoting, chair rail and crown molding are interesting ways to embellish your home. All three come in a variety of styles, shapes and sizes, from overly-ornate to simple and modern — choose the design that fits the architecture of your home the best.
Wainscoting, chair rail and crown molding are all going to make a room unique and really stand out, but what if you just don't have the time or energy for such a big project? You can start small by painting an accent wall, adding artwork, applying wallpaper or even just rearranging your furniture. If you're going to paint, pick a fun color that will make you feel happy in that room, such as bright blue or neons. It might sound crazy, but it's just one wall, and it really will elevate the room and brighten your mood.
More home tips
Outdoor furniture you can invite inside
5 Awesome updates you can do with spray paint
Tool box basics for 20-somethings