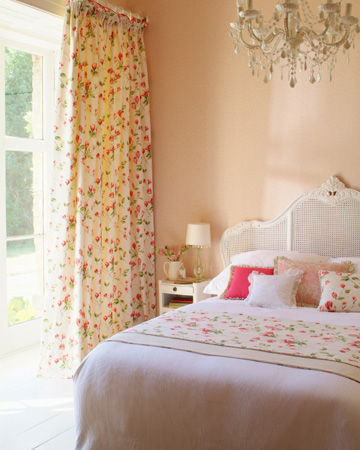 Decor tips: Spend vs. splurge
Welcome to Decorating Diva, where every week we share fresh, fun ways to update your home and spice up your living space! There are certain items in every room worth splurging on, while others are more fun and frivolous (Target, here we come!).
We break it down room by room to find out what can be purchased for less, and what you should be spending a little more on. Shower curtains versus faucets, duvets versus throw pillows, lighting versus love seats, read on to find out what to spend on — and where to save.
In the bedroom
In general, be prepared to spend a lot on your bedroom.
Spend: Start with sourcing a good-quality mattress. Sleep is important, and you don't want to compromise a good night's rest for the sake of saving a few dollars. Plus you want your mattress to last. You also want to spend on your duvet cover and bedding. After all, your bed is the focal point of the room, so spending on good bedding will help keep the room looking current and polished. You should also spend more on dresser drawers, because they get lots of wear and tear.
Save: You can save on extras like nightstands, reading lamps and decorative pillows. Rather than spending money on artwork, go with a beautiful headboard and stylish bedding instead.
In the kitchen and dining room
There are a few areas to splash out on in the kitchen, but lots of opportunity to opt for more affordable items.
Spend: It's a good idea to think about upgrading to stainless steel appliances, which look great and are a good idea for resale value. You also want to spend on faucets and taps and splurge on a beautiful countertop since that's usually the first thing you see when you walk into the room. If you can, splurge on a good, functional dining table. It will likely get lots of use, and you want it to last.
Save: When it comes to kitchen cabinets, go simple and affordable. The visual impact can come from unique and eye-catching hardware and handles. Visit antique shops and even thrift stores to scout stylish, one-of-a-kind options. Save on chairs since you may want to change them after a few years, plus you need several of them, which can get expensive.
In the living room
The living room is where you spend a lot of time, between relaxing at home and entertaining. Larger items are worth splurging on here.
Buying note: Fabric, foam and construction are what determine the quality. When you sit down, it shouldn't feel like you are sinking endlessly into it. The sofa should have a little bit of give, but the shape should hold.
Spend: You definitely need to splurge on your sofa. It gets enough use that opting for quality will save you money in the end. There's no point purchasing something just because it's cheap and then having to replace it two years later. A good-quality sofa should last about 10 years.
Spend a bit more on good lighting, which can do wonders to make a space look beautiful. We also suggest splurging on art, which will help tie the room together. You don't need a lot — one nice piece of original art is often enough to make a statement.
Save: Save on accents (pillows, rugs, carpet) and on carpets. Carpeting acts as more of a decorative item and is something you should feel you are free to change if the mood strikes.
In the bathroom
It's easy to create a chic, on-trend bathroom look by only spending on a few key items — and saving on everything else.
Spend: Spend on faucets and taps. Think of them as the accents of your wardrobe, like enhancing a simple black dress with great accessories (belt, beautiful necklace). Even a plain sink and vanity can be dressed up with stylish faucet and ultra-modern taps. Also invest in a nice showerhead that will last. Not only will your morning showers improve (big bonus), a quality showerhead is good for resale value. If you're thinking of renovating your bathroom, a shower stall with beautiful tiling makes for a relaxing and spa-like setting.
Save: Save on towels, shower curtains, toothbrush holders and other accessories you're going to switch up more often.
In the foyer
The foyer or entrance way is the first impression people have of your home, which means you want it to look good. But that doesn't mean spending a fortune all around.
Spend: A good place to start is to splurge on lighting. Think about pendant lighting, which hangs from the ceiling and adds both ambiance and architectural influence. You can also spend on one focal piece, such as bench seating that also works as storage or a beautiful antique side table.
Save: Accessories such as mirrors, vases or small tables can be purchased with less regard for cost.
More from Decorating Diva
Must-have summer style
How to create a craft corner
Bold outdoor accessories for a get-noticed yard