Add a little flair to your kitchen with colorful and fun kitchen accessories. From handmade cutting boards to colorful canisters, these items just might make cooking more fun! Just about anything on Etsy can be customized, which makes them a perfect option for gift giving.
Spoon rest
Get rid of that plain and boring spoon rest and add a little something to your counter that is just as decorative as it is functional. This gorgeous poppy spoon rest from Etsy seller Marci G is like a mini piece of art. In fact, you may not even want to set your dirty spoon on it! Don't worry though, it will be as good as new after a quick rinse.
State cutting board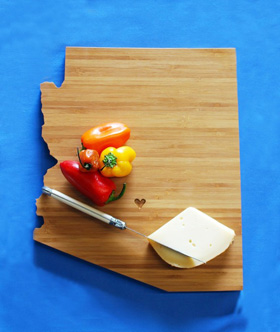 There isn't anything exciting about a cutting board, unless of course that cutting board is in the shape of your favorite state. Etsy seller A Heirloom (find them on Facebook) makes a line of cutting boards that includes all 50 states and a few other shapes. We love that the boards are made of renewable bamboo. In addition you can specify a city of choice, and they'll add a little heart to that area. We think this would make for a perfect wedding gift.
Canister set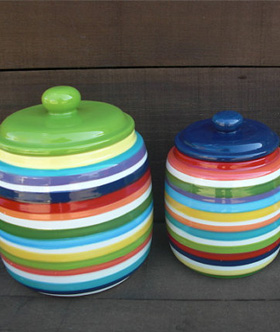 These colorful striped canisters from Etsy seller In a Glaze (find them on Facebook) will give new life to your countertops. Fill them with sugar, coffee, flour or anything else that you want quick access to. If the stripes are a little too bold for your kitchen, there are several other options in this shop. We are loving the fun colors for summer, though!
Utensil holder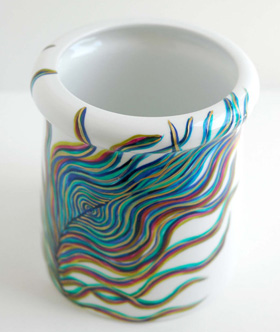 Clear a little clutter from your drawers by putting all of your most-used utensils in a canister on the counter. This porcelain holder from Etsy seller Mary Elizabeth Arts (find them on Facebook) comes with a beautifully hand-painted peacock feather. You can request what colors you want the feather to be to match your decor. Your spatulas and spoons will have never looked better.
Find more handmade items in our weekly Etsy roundup >>
More Etsy goodness
Etsy roundup: Vintage home decor
Etsy roundup: Yard accessories
Etsy roundup: Patriotic decor