It's the time of year when we spend more time outside whether we are knee deep in the garden, laying poolside or grilling up some burgers. Since you'll be in the yard more, you may as well add some flair to the space. The artisans at Etsy have several fun options that will spruce up your space while you just enjoy the great outdoors.
Hummingbird feeder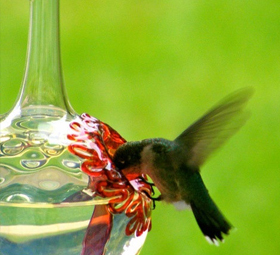 Hummingbird feeders are one of my favorite yard accessories, not so much for the feeder itself but because they attract the beautiful little birds. Why not have a feeder that is just as pretty to look at as the birds themselves? This handblown glass feeder, by Etsy seller Kennedy Glass Studio (find them on Facebook), is truly a work of art. You'll appreciate the sparkle it adds to your yard even when the birds are nowhere to be found.
Dog stake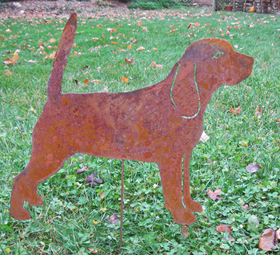 Pay homage to your four-legged family members with
garden stakes
that look just like them! Etsy seller
Rustica Ornamentals
(find them on
Facebook
) makes a full line of garden stakes with several breeds of dogs as well as other options like butterflies. These would make a sweet memorial to pets no longer with us or just a fun accessory to add a little interest to your garden beds.
Flower stake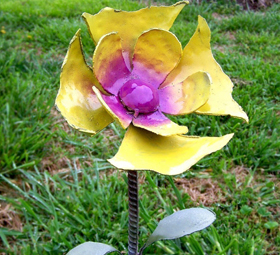 If your yard is in need of a little color, Etsy seller Garden Stake has you covered. Their flower stakes come in just about every color and several varieties so you can create an entire bouquet of flowers that never need to be watered. Consider these blooming stakes as art for the yard. You can also find other varieties of stakes in their shop — like zombies — if that is more your thing.
Wind chime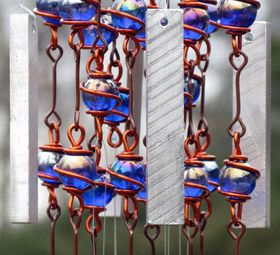 There is no better way to add a little dazzle to your yard than with something that catches the sunlight and truly shines. This wind chime by Etsy seller Tapestry Arabian Farm does just that and leaves a little tune behind on a breezy day. What more could you want? To top it off, the chimes are made with recycled aluminum, making this yard accessory eco-friendly, too.
Find more handmade items in our weekly Etsy roundup >>
More Etsy goodness
Etsy roundup: Vintage home decor
Etsy roundup: Wedding decorations
Etsy roundup: Patriotic decor