Celebrate America this summer with festive handmade décor for just about every area of your home. Etsy is filled with an assortment of patriotic goodies from wreathes to serving dishes. Deck your halls with stars and stripes or consider giving some of these items as gifts this year.
Freedom banner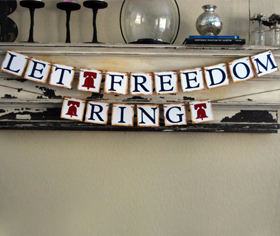 Celebrate freedom and all of the sacrifices Americans have made to ensure freedom always rings with this sweet banner. Etsy seller Green Jazz Face (visit them on Facebook) makes various banners with other patriotic sayings, but we are especially loving the little bells on this one. Give your mantle a new summer look with a banner that will remind us all how lucky we are to live in America.
Flower wreath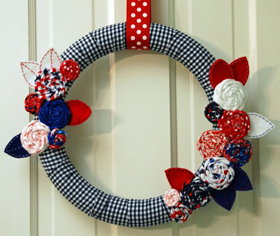 Even if you hang your flag with pride this time of year, don't forget to add a little red, white and blue to your front door! This fabric flower wreath from Etsy seller Daffadowndillies is more subtle that a wreath adorned with flags, making it perfect for display all summer long. The fun fabrics remind us of summer picnics and fun family gatherings.
Flag pillow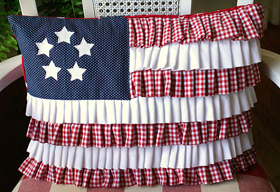 Give your couch, bed or favorite chair a little patriotic love with this ruffled flag pillow. Etsy seller Hens In Daisies makes a cute collection of ruffled pillows and we happen to love this version, which incorporates gingham fabric. You may just want to leave this pillow out all year round!
Patriotic bowl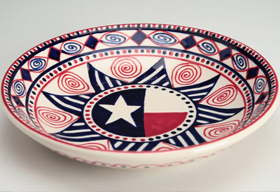 Patriotic serving dishes will give festive flair to your backyard barbeques and parties. This hand painted ceramic bowl from Etsy seller Owl Creek Ceramics is not only patriotic but it's gorgeous too. We are loving the graphic patterns, in addition to the classic stars and stripes. Fill it with dips, hot dog toppings or even ice cream!
Find more handmade items in our weekly Etsy roundup >>
More Etsy goodness
Etsy roundup: Spring wreaths
Etsy roundup: Wedding decorations
Etsy roundup: Watercolor paintings and prints