Feeling Hot
Between The Sheets?
Ah, bed… that cozy, warm place we love to hunker down into on a cool winter's night. Once summertime arrives, cozy and warm are the last two things you want to be in the sack. Trading out your bedding to suit the seasons doesn't have to break the bank or change your decor. Check out this great summer bedding we found that will have you dreaming in no time.
Beautiful blooms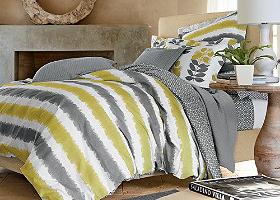 Restful prints
Nothing says summer like peaceful colors and casual prints. The Lofthome Wildwood comforter cover and coordinating bedding ($29 - $149) brings soft hues together to make your bed look even more inviting. The comforter cover is reversible with a mini-geometric print on the back for even more options.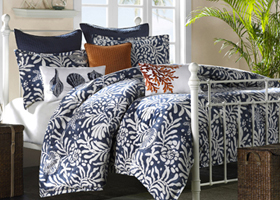 Beach cottage, anyone?
Who wouldn't want to wake up each summer morning in a beach cottage? The Harbor House Pacifica duvet and coordinated bedding ($40 - $130) has that perfect beachy vibe. The indigo pattern on an oatmeal-colored textured fabric makes you think of ocean waves and cool breezes. The cotton fabric has been printed with a washed, slightly vintage effect to give it character and charm.
Summer is here, so what are you waiting for? Gather some soft summer bedding and watch how quickly your mood changes.
More summer decor
10 Budget-friendly ways to decorate your home for summer
Decorating Diva: Welcoming summer, room by room
DIY Home blogs for summer inspiration