With school out for summer, most moms are scrambling for budget-friendly activities to keep their kids occupied that won't involve tearing the house apart. Summer is the perfect time to get the kids involved in decorating and organizing their rooms. Here are some kid-focused design tips from designer and mom, Kelly Edwards, host of HGTV's Design on a Dime.
Kid-friendly DIY projects
Do-it-yourself projects don't just need to be for mom and dad — Edwards recommends getting the kids involved. "I will give you a project that's kind of fun because it's repurposing, it's upcycling and it's using something that everyone may have at home, so it's not a lot of money."
Take an old armoire and turn it into storage plus an art station. Grab some foam core from the craft store and have them bat it and fabric it. "Then with Velcro strips attach it to the inside of the armoire for them to hang up their artwork," she explains. Finish it off by painting the outside with chalkboard paint that the kids can customize. "Have them take one cup of colored latex paint of their choosing, like neon green or pink or blue. Then mix it together with two tablespoons of un-sanded tile grout." The result is a space-saving art station your child is sure to love.
If you aren't able to find an extra armoire, turn your child's closet into a telephone booth. You can do this by painting the door and trim red and placing a vintage telephone sign above the door. "The funny thing is how you can get your kids to clean," Edwards says. Instead of saying "Would you put your stuff away?" Tell your child, "Why don't you help mommy by putting your toys in the telephone booth. They will always do it," she says.
Double-duty furniture
One way to prepare your kid's room for summer is to get organized. Edwards recommends opting for double-duty furniture. "Consider getting pieces that have storage built into them," she says. "There are actually box springs with drawers built in." You can also use simple ottomans with removable tops that have storage below. Furniture for your kid's room can be attractive and functional.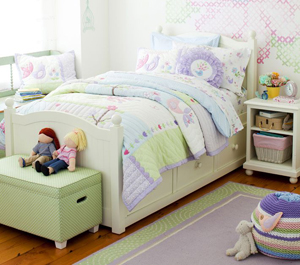 Go vertical
Every mom worries about getting new toys that will just add to their already cluttered spaces. Edwards recommends going vertical by investing in toys that can be played and stored on the walls. "I came across this new product called the Hot Wheels Wall Tracks, where kids can play with cars on the wall," she says. They go on with command strips, so there are no holes left in the walls. "Which is so awesome because parents don't have to worry about clean up, and it saves on space."
Repurpose it
While organizing helps with function, don't forget to add stylish elements. Try repurposing old furniture from your parents or from a thrift store, says Edwards. An old credenza may not work with the decor in the rest of your house, but is sure to look cool in your kid's room. Also, try using a school locker for a stylish storage addition. "It's really fun because not only do the five-year-olds love it, but the 15-year-olds can still use it because it's like their lockers at school.
Edwards final thought was just to have fun with it. "Honestly, there are so many fun decorating things to do with the kids in their spaces!"
More on kids' bedrooms
Decorating a nautical kid's bedroom
Cool decor for a kid's bedroom
How to make over your kid's bedroom on a budget