Let's get crafty!
Welcome to Decorating Diva, where every week we share fresh, fun ways to update your home and spice up your living space! Are you a crafter? Even if you just dabble in DIY or home decor projects, you need a dedicated space to do it. We're here to help you eke out an area just for your creative pursuits. From product picks to design tips, we have the 411 on creating your very own craft corner.
Why have a dedicated craft corner?
If you've ever undertaken a craft project and used the dining room table as DIY command central — and then tried to host a dinner party — you know firsthand the need for a dedicated space. Having a corner just for crafting means never having to lug all your supplies to and from whatever closet you store them in or never having to shudder at the site of your messy, craft-covered kitchen counter. Not to mention, you'll be able to focus more when you have a space just for being creative.
Product picks: What you need
You don't need much to create a functional but stylish space for crafting. We've listed the basics, along with some items that fit the bill.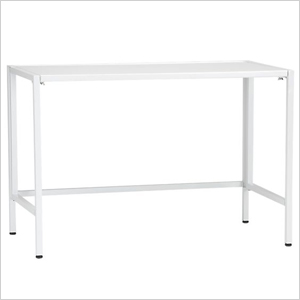 Small desk
Look for something big enough to fit into the space you have in mind and to hold your main supplies (i.e., a sewing machine), a few containers and a lamp. This white steel pop-up desk folds up for easy storage when you're not using it (crateandbarrel.com, $149).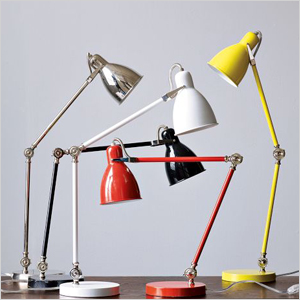 Desk lamp
If you're crafting you need good lighting. Having a desk lamp to directly illuminate what you're doing can make a huge difference, especially when it comes to more detailed work. We love these industrial-looking task lamps that swivel easily to where you need light most (westelm.com, $69).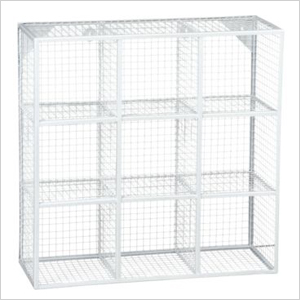 Storage unit
We love this wire shelf as a way to maximize space and store all your crafting essentials within reach (cb2.com, $70). The handmade unit can either be wall-mounted (hardware included) or propped on a desk or counter.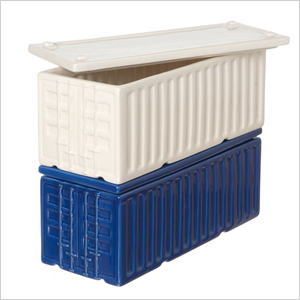 Containers
Whether you're go-to tools are scissors, pens, brushes or glue sticks, having a few colorful containers on your work station makes for a more organized craft corner. We fell for these cute canisters designed to look like shipping containers (areaware.com, $30 for two). They come in sets of either white and blue or gray and orange.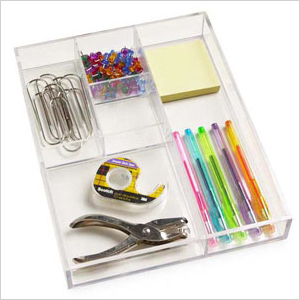 Divider tray
For anything you need close by (from safety pins to elastics), a tray with multiple dividers is key for staying on track. Opt for something simple like this clear tray with five compartments (containerstore.com, $11).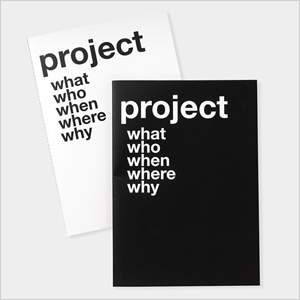 Notebooks
Sure, you have your iPhone for notes, but we prefer jotting down ideas the old-fashioned way — on paper. Pick up a few of these project-specific notebooks, featuring pages that prompt you to write down the who, where, why, when and how of your idea (momastore.com, $17).
Tips for making it work
Position your craft area near a window if you can. Working in natural light is much more conducive to getting things done.
Don't choose a high-traffic spot if you can help it. It will be hard to concentrate if there is a parade of people going by what feels like every few minutes.
Keep the space pretty. The more you enjoy being in your craft corner the more you'll use it. Colorful accessories, a potted plant (if you have room) or other items that make you smile are a great addition to your space.
Utilize things like Mason jars and coffee tins to create extra storage for your crafting basics.
Tell us: What are your at-home crafting essentials?
More from Decorating Diva
Must-try patio trends from Sabrina Soto
8 Stylish ways to impress your guests
The busy girl's guide to home decor