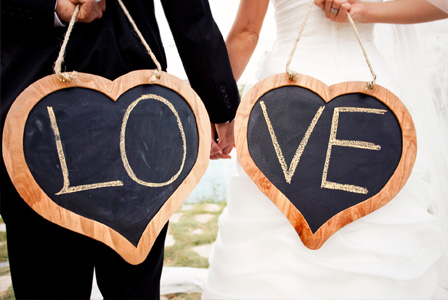 Welcome to Decorating Diva, where every week we share fresh, fun ways to update your home and spice up your living space!
Wedding day DIY
While not everyone wants to get crafty where their wedding is concerned, adding some DIY decor is a great way to save money and put a personal spin on your big day. Even if you're not Martha Stewart (and let's face it—who is?) there are a myriad of options for embracing your creative side. From favors to napkin rings, check out some of our picks for simple yet stylish wedding day DIY ideas.
Cinder block centerpieces
Cinder blocks might not look like anything special (or something you'd want to incorporate into your wedding, of all things), but they are a lot more versatile than you might think. They have a rustic simplicity that lends itself well to a lot of uses, especially as planters. Plus, they're cheap. Using as many as you need, paint table numbers on each. Then fill with soil and plant with the flowers and plants of your choice. We suggest in-season blooms, ornamental grasses or even wildflowers.
Mini chalkboard menu signs
If you're having a buffet dinner or even a dessert or late-night snack buffet (trend alert), it's nice to have signs explaining what's being offered. Pick up several small (4x6) photo frames from the dollar store. Pop out the glass and paint with chalkboard paint (on both sides). Use three coats, letting each coat dry completely before the next. Put back into the frame, write down what the menu item is and you're ready to display alongside your tasty treats. Oh-so-cute! They can be reused for dinner parties (even as place cards) or potlucks.
Herb pot favors
Forgo favors that won't get any use (we're looking at you, keychain and mixed CD) and instead offer something eco-conscious and useful. Scour dollar stores or craft supply stores for small, galvanized steel buckets or small clay pots (leave as is or paint in your wedding colors). Fill with soil and plant with your favorite herbs. Rosemary is very hearty, as is mint.
Bonus: Guests can replant their herbs in the garden when they get home.
Vintage frame photo holder
We love this idea, and it makes a great addition to any signing table or entrance to the reception. Find an old photo frame (you're bound to find something that looks particularly beat up in your parent's garage or at a yard sale). Look for something large enough to accommodate 10 to 12 photos. Now all you need is lace ribbon, twine or any ribbon in your wedding colors. Cut your material to fit across the width of the frame with only enough overhang to staple to the frame. Cut to size and staple (making sure the ribbon is taut). Print out your favorite photos of you and your spouse-to-be, your families and anything else worth showing off. Clip your pics to the ribbon using clothespins and stand your frame up wherever people will see it.
Birch bark napkin rings
This one is slightly tedious (enlist help) but dead easy and very stylish. Go on a birch bark finding mission (or get an outdoorsy pal to do this part). Bark that has fallen off the tree or is about to come loose is very pliable and easy to manipulate (do not rip young bark off the trees). Cut lengths of bark big enough to just fit around a rolled-up napkin. Carefully place the bark around the napkin and fasten with a hot glue gun (you only need a drop). Once dry, delicately slide a sprig of mint underneath the napkin ring. That way when guests slide them off they get a whiff of fresh mint. Trust us; it looks great (very rustic-chic) and guests love the novelty of the fresh herbs.
Glam table numbers
Feel like adding a bit of bling to your wedding day decor? It's much easier than you think. We love the idea of taking sparkly photo frames (find these anywhere from garage sales to thrift stores) and using them to display table numbers. Simply pop out the glass or cardboard backing and replace with a piece of card stock printed with the numbers you need. The bit of sparkle on every table is an eye-catching addition to your decor.
Nature-inspired aisle decor
Whether your wedding is outdoors or in, it's nice to add interest to the aisle, and we suggest doing so with nature. Stock up on large, galvanized steel buckets, the aforementioned cinder blocks or wooden boxes and plant them with flowers that match the wedding colors (or that go with the setting of your ceremony). Set them up at the end of every row going down the aisle for a stylish splash of color.
Other cool wedding ideas we love
More from Decorating Diva
Creative uses for Mason jars
Home decor wedding gifts
Beach-inspired home decor